Find this product on Logos.com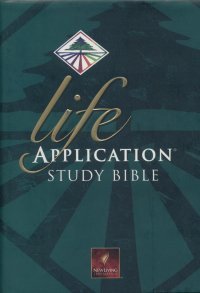 Life Application Study Bible Notes
This title works with the following Wordsearch products
Desktop
Highlights
Best-Selling Study Bible
Features 10,000 Life Application Notes® that challenge readers to apply what they read to their lives
Includes Harmony of the Gospels
Over 200 Full Color Maps keyed to scripture
Scripture references use the New Living Translation
Product Details
The Life Application Bible® will help you understand God's message to you. Its notes explain difficult passages and give background information about Bible life and times, but they go a step further-they also show how God's Word speaks to every situation and circumstance of your life.
The Life Application Bible® offers you many features like:
Over 10,000 Life Application Notes® help explain God's Word and challenge readers to apply the truth of Scripture to life
Personality profiles highlight over 100 important Bible characters
Book introductions provide vital statistics, overview, and timeline to help readers understand the message of each book
200 thumbnail maps highlight important Bible places and events
260 charts help explain difficult concepts and relationships
Cross-references
Harmony of the Gospels built right into the text of Matthew, Mark, Luke, and John
Topical index to all notes, charts, maps, and profiles
Endorsements
The Life Application Bible is a great step forward in helping Christians apply the Bible's life-changing message in their own lives
The Life Application Bible is a concrete step toward allowing the Spirit of God to transform the reader into a modern-day living epistle
I am bullish on the Life Application Study Bible because it is a serious attempt to relate truth to life, to transform belief into practice.