Find this product on Logos.com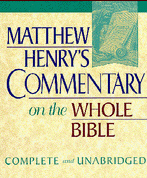 Matthew Henry's Commentary on the Whole Bible
Complete and Unabridged
Highlights
One of the best selling commentaries of all time
Devotional style, rich in thought and explanation
A timeless classic
Named by the R. C. Ryan Center for Biblical Studies as one of the Best Tools for Preaching and Teaching
Named as one of the 850 Books for Biblical Expositors by the Master's Seminary
Product Details
Matthew Henry's Commentary on the Whole Bible has been a favorite of teachers, preachers, and lay-people for over three centuries. His rich verse-verse exposition and practical applications are perfect for devotional reading and sermon preparation.
Henry's Commentary by far has been the best-selling verse-by-verse Commentary of all time.
About the Author

Matthew Henry (1662-1714), was a Presbyterian minister in England, who is best known for his beloved devotional commentary on the Bible. He was born prematurely in 1662 at Broad Oak, in the chapelry of Iscoyd, Flintshire, Wales. As a child he was sickly, but somewhat precocious in learning. He owed most of his early education to his father. In 1680 he entered the academy of Thomas Doolittle, then at Islington, and remained there till 1682. In 1683, shortly after his coming of age he entered on the estate of Bronington, Flintshire, inherited from Daniel Matthews, his maternal grandfather. On the advice of colleague he began to study law, and was admitted at Gray's Inn in 1685. In 1686 he began to preach in his father's neighbourhood. Business took him to Chester in 1687 and while there he preached in private houses, and was asked to settle as a minister. He gave a conditional assent, and returned to Gray's Inn.
In 1687 he was ordained in London at the house of Richard Steel. Henry began his ministry at Chester in June of 1687. In a few years his communicants numbered 250. A meeting-house was erected for Henry in Crook Lane. It was begun in 1699, and opened in August 1700. In 1706 a gallery was erected for the accommodation of another congregation which united with Henry's. The communicants now rose to 350. In addition to his congregational work he held monthly services at five neighbouring villages, and regularly preached to the prisoners in the castle. He was an energetic member of the Cheshire meeting of united ministers, founded in March 1691. He found time also for his labours as a commentator, which originated in his system of expository preaching.
He preached his farewell sermon at Chester on May 11, 1712. He died suddenly of apoplexy at Nantwich on June 22,1714. He is buried in the chancel of Trinity Church, Chester.
Henry's well-known Exposition of the Old and New Testaments (1708–1710) is a commentary of a practical and devotional rather than of a critical kind, covering the whole of the Old Testament, and the Gospels and Acts in the New Testament. After the author's death, the work was finished by a number of ministers, and edited by George Burder and John Hughes in 1811. Not a work of textual criticism, its attempt at good sense, discrimination, its high moral tone and simple piety with practical application, combined with the well-sustained flow of its English style, made it one of the most popular works of its type. His commentaries are still in use to this day. Henry's commentaries are primarily exegetical, dealing with the scripture text as presented. Henry's prime intention was explanation, not translation or textual research.
Endorsements
Every minister ought to read Matthew Henry entirely and carefully through once at least.
Everyone acknowledges that the greatest devotional commentary ever written...the work that undoubtedly has exercised more influence over ministers....is the one written over 200 years ago by Matthew Henry.
There is nothing in our language equal to Matthew Henry.