Find this product on Logos.com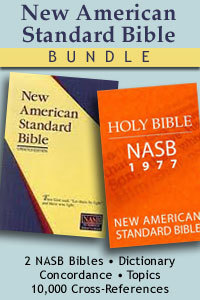 New American Standard Bible (NASB) Bundle
The Most Literal is Now More Readable
Highlights
This bundle contains the following:
New American Standard Bible® (1977)
New American Standard Bible Update® (1995)
NAS® Greek and Hebrew Dictionary
NAS® Greek and Hebrew Concordance
NAS® 10,000 Cross References
NAS® Topics
La Biblia de las Americas
Named as the Master's Seminary's 850 Best Books for Biblical Expositors
Product Details
Publication of the complete New American Standard Bible® in 1971, has been widely acclaimed as "the most literally accurate translation" from the original languages. However, in 1995, an Updated version of the New American Standard Bible® was released to better address the changes in culture of the day. The smoother reading New American Standard Bible Update® refines the differences in style between the ancient languages and current English. In the process of translation, Old English "thees," "thys," "thous," archaic vocabulary, and sentences beginning with "And" have been updated for better English, while verses with difficult word order were restructured.
In perfecting the New Amercian Standard Bible Update® , more than twenty translators spent nearly three years scrutinizing the New American Standard Bible® in order to modernize and maintain it in accordance with the most recent research on the oldest and best manuscripts. The King James Version is the basis for the English Revised Version, the New Testament published in 1881 and the Old Testament in 1885. The American Standard Version published in 1901, is the American counterpart. The American Standard Version is the basis for the New American Standard Version, which was commissioned in 1959. There was an attempt to preserve the qualities of scholarship and accuracy of the American Standard Version.
Endorsements
The NASB is 'my' Bible, the finest and clearest of translations for inductive study. You can be sure this is the translation I recommend above all others.
I believe the NASB is the most accurate translation thus far. It's my Bible of choice, and I highly recommend it for all pastors and seminary Bible students.
This work by an outstanding team of biblical scholars is perhaps the most accurate and reliable translation presently available.