Find this product on Logos.com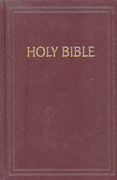 Highlights
Formal equivalence(word for word)
From the Father of Dispensationalism
Product Details
In 1865 John Darby decided to produce a highly literal English version of the New Testament for study purposes. It was based upon modern critical edtions of the Greek, and completed in 1867. John Darby states in the preface of this New Testament that his purpose was to make a modern translation for the unlearned who have neither access to manuscript texts or training and knowledge of ancient languages of the Scriptures.
Darby was the principal scholar for a number of translations – and not the sole translator of any one of the various translations that bear his name. He worked with various brethren who had academic and spiritual qualifications. He also acknowledges dependence on the critical work of Samuel Prideaux Tregelles and various other scholars.
After Darby's death in 1882, certain of his followers in England produced an English version of the Old Testament based upon Darby's French and German translations. In 1890, with the formal title; A New Translation from the Original Languages by J. N. Darby, the Bible as a whole was published.
About the Author
John Nelson Darby was born in London in March of 1801. He came from an Anglo-Irish landowning family seated at Leap Castle, King's County, Ireland. His middle name was given in recognition of his godfather and family friend, Lord Nelson.
Darby was educated at Westminster School and Trinity College, Dublin where he graduated Classical Gold Medallist in 1819. Darby embraced Christianity during his studies, although there is no evidence that he formally studied theology. He joined an inn of court, but felt that being a lawyer was inconsistent with his religious belief. He therefore chose ordination as an Anglican clergyman in Ireland. In 1825, Darby was ordained deacon of the established Church of Ireland and the following year as priest.
Darby became a curate and distinguished himself for his successful ministry among the Roman Catholic peasants of his parish in Calary, near Enniskerry, County Wicklow. He later claimed to have won hundreds of converts to the Church of Ireland. However, the conversions ended when Darby disagreed with a ruling of the church and Darby resigned his curacy in protest.
During the next five years he joined an interdenominational meeting of believers who met to "break bread" together in Dublin as a symbol of their unity in Christ. By 1832, this group had grown and began to identify themselves as a distinct Christian assembly. As they traveled and began new assemblies in Ireland and England, they formed the movement now known as the Plymouth Brethren.
Darby traveled widely in Europe and Britain in the 1830s and 1840s, and established many Brethren assemblies. He gave eleven significant lectures in Geneva in 1840 on the hope of the church (L'attende actuelle de l'eglise). These established his reputation as a leading interpreter of biblical prophecy. He made at least 5 missionary journeys to North America between 1862 and 1877. He used his classical skills to translate the Bible from the original texts. He wrote hymns, poems and was also a Bible Commentator. He died in 1882 at Sundridge House, Bournemouth and is buried in Bournemouth, Dorset, England.