Find this product on Logos.com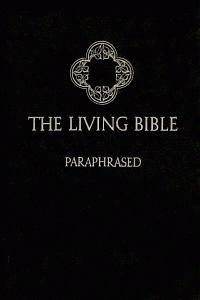 The Living Bible (TLB)
Paraphased
Highlights
Over 40 Million copies sold
Modern Paraphrase
#6 Of The Top 50 Books That Have Shaped Evangelicals
Named as the Master's Seminary's 850 Best Books for Biblical Expositors
Product Details
The Living Bible is Kenneth Taylor's interpretive paraphrase of the Bible. The purpose of this version is for it to say as exactly as possible what the writers of the Scriptures meant, and to say it simply, for clearer understanding by the modern reader.
There is a danger in paraphrasing that the translator, though honest, may give the English reader something that the original writer did not mean to say. When the Greek or the Hebrew is not clear, the theology of the translator and his sense of logic are his guides. The theological guide in this version has been a rigid, evangelical position.
Published in 1971, this is a compilation of previous paraphrases by Tyndale: Living Letters (1962), Living Prophecies (1965), Living Gospels (1966), Living Psalms and Proverbs (1967), Living Lessons of Life and Love (1968), Living Books of Moses (1969), and Living History of Israel (1970).