Find this product on Logos.com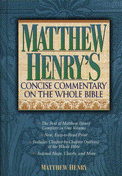 Matthew Henry's Concise Commentary
Highlights
One of the best selling commentaries of all time
Devotional style, rich in thought and application
A timeless classic
Named by the R. C. Ryan Center for Biblical Studies as one of the Best Tools for
Preaching and Teaching
Named as one of the 850 Books for Biblical Expositors by the Master's Seminary
A favorite of Pastor Chuck Smith
Product Details
Matthew Henry's Commentary on the Whole Bible has been a favorite of teachers, preachers, and lay-people for over three centuries. His rich verse-verse exposition and practical applications are perfect for devotional reading and sermon preparation.
This work is a condensed version of Henry's Six-Volume Commentary. This Magnum Opus was published over a period of 14 years. The first four volumes were published in his lifetime. The Fifth volume, which included commentaries through the Book of Acts, was completed before he died in 1714, but published shortly after his death. The remainder of the work was completed by committee and published in 1720.
Matthew Henry's Commentary by far has been the best-selling verse-by-verse Commentary of all time.
About the Author
Matthew Henry (1662-1714) was a Presbyterian minister in England, who is best known for his beloved devotional commentary on the Bible. He began his commentary on the Bible in 1704. He completed his work up to the end of Acts before his untimely death by stroke. Afterward, his ministerial friends completed the work from Henry's notes and writings. His Bible commentaries have always enjoyed much popularity for "their penetrating insight, exhilarating freshness, and ingenuity of thought and expression."
It has not been generally known that he was also a distinguished preacher. He began preaching at twenty-four years old and held pastorates until his death. The greatness of his sermons consists in their scriptural content, lucid presentation, practical application, and Christ-centeredness.
Endorsements
Every minister ought to read Matthew Henry entirely and carefully through once at least.