Find this product on Logos.com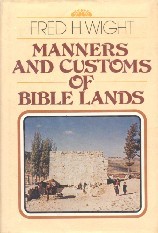 Manners and Customs of Bible Lands
Highlights
Discover and understand the impact of culture on the Bible
A treasure trove of helpful information
A must have for any library
Product Details
Manners and Customs of Bible Lands was written by Fred H. Wight in 1953. Knowing manners and customs of the people of biblical times is essential for understanding the Bible. Many Bible passages that are hard for modern readers to understand are readily explained by a knowledge of Middle Eastern cultural patterns.
Here are some of the topics discussed in this handbook:
Customs at mealtime
Dress and Ornamentation
Education of Youth
Marriage and Customs
Sickness in Bible Lands
Death in Oriental Lands
Trades and Professions
Customs Regarding Property
Slavery in Bible Times
Traveling on Land and Sea
Both beginning and advanced Bible students will find this book of considerable help in interpreting Scripture.
About the Author:
In the spring 1951, Fred H. Wight completed a thesis in partial fulfillment of the requirements for the degree, Master of Arts in Religion, at Pasadena College, California, under the title, "A Study of Manners and Customs of Domestic Life in Palestine as Related to the Scriptures." Desire was expressed by certain members of the faculty that additional material be added to the thesis, and that a general textbook be written on Oriental manners and customs bearing on the Scriptures. As a result of this, the manuscript for this book was completed. Chapters 1 through 11 and 13 through 17, plus a small portion of Chapter 26, are substantially the original thesis, the other chapters having been added.
The author is indebted to Dr. G. Frederick Owen, Professor of Archaeology and Biblical Literature at Pasadena College, for his assistance in the project. Dr. Owen has spent several seasons in Palestine doing research work, and his suggestions and criticisms have been a help to the author in writing. With Dr. Owen's permission, some material derived from class notes in a course taught by him in the summer of 1950 on the subject "Manners and Customs of Bible Lands," was included in the thesis and appears in the present work.