Find this product on Logos.com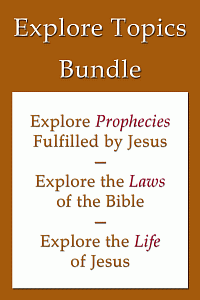 Explore Topics Bundle
Prophecies, Laws, Life
Product Details
This bundle includes three great topical books:
Explore Prophecies Fulfilled by Jesus
In the Old Testament, many prophecies were made concerning Jesus. The fulfillment of these prophecies is recorded in the New Testament. The Prophecies Fulfilled by Jesus topic divides the prophecies into smaller categories, and lists the Bible verses for each Old Testament prophecy and its New Testament fulfillment.
Explore the Laws of the Bible
The Bible, especially the Old Testament, discusses all kinds of law. The Bible also discusses appropriate types of punishment. The Laws of the Bible topic divides legal references in the Bible into categories and sub-categories, and lists the Bible verses relating to each.
Explore the Life of Jesus
A topical book on the events of Jesus's life, specially compiled for Wordsearch products.