Find this product on Logos.com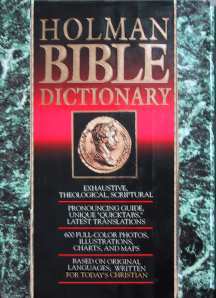 Holman Bible Dictionary
This title works with the following Wordsearch products
Desktop
Highlights
6,000 entries on every person, place, and topic in the Bible
Written by a huge team of more than 200 scholars from many denominations
All information - definitions, introductions, and articles arranged in a single alphabetical listing
Latest archaeological information from Jerusalem excavations, Dead Sea Scrolls, Elba, etc.
Articles based on original languages but written in user-friendly style. Technical language and abbreviations avoided.
Product Details
A Bible dictionary is an indispensable resource for all Bible students. In print, the Holman Bible Dictionary ,first published in 1991, is nearly 1,500 pages. It has articles that cover every Bible character and place, and even introductions to every book in the Bible. There are also extensive articles on the culture of Bible times; for example, we've all heard of the Pharisees and the Sadducees, but who were they, what did they believe in, and what were their differences? Find out in the Holman Bible Dictionary.
Other features include pronunciation guides, and alphabetized entries from seven Bible translations: New King James Version, New International Version, Revised Standard Version, New Revised Standard Version, Revised English Bible, New American Standard Bible, and Today's English Version. It even has a wealth of articles that explain theological concepts like "sanctification," "justification," "expiation," "reconciliation," and much more, in language that is clear and easy to understand.
About the Editor
Trent C. Butler has a Ph.D. in biblical studies and linguistics from Vanderbilt University, has done further study at Heidelberg and Zurich, and has participated in the excavation of Beersheba. He served ten years on the faculty of the International Baptist Theological Seminary in Rüschilkon, Switzerland, and for twenty-two years as editor and editorial director for Holman Bible Publishers. Currently, he is a retired free-lance editor.