Find this product on Logos.com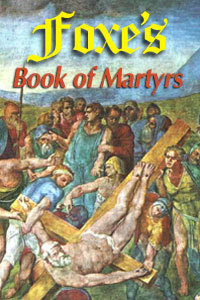 Highlights
A classic of the faith and lives of Christian martyrs
The only exhaustive reference work on the history of Christian Martyrs from the first century up to the mid-16th century
Outside of the Bible itself, this book along with Pilgrim's Progress and Calvin's Institutes of the Christian Religion, are the most important and influential books ever printed in Christian history
Product Details
John Foxe first published Acts and Monuments of these Latter and Perilous Days, better known as the Book of Martyrs. This work recounts the lives, suffering, and triumphant deaths of Christian martyrs throughout history. Beginning with the first-century stoning of Stephen, this exceptional historical record traces the roots of religious persecution, through Reformation-era England. It focuses on such great men as John Wycliffe, William Tyndale, Martin Luther, Thomas Cranmer, and many others.
About the Author
John Foxe was born at Boston, in Lincolnshire, England in 1516, and died April 8, 1587 at Cripplegate, London. He is most famous for work on the Acts and Monuments of the Christian Church,which is more commonly known as Foxe's Book of Martyrs.
Endorsements
After the Bible itself, no book so profoundly influenced early Protestant sentiment as the Book of Martyrs. Even in our time it is still a living force. It is more than a record of persecution. It is an arsenal of controversy, a storehouse of romance, as well as a source of edification.