Find this product on Logos.com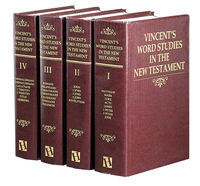 Vincent's Word Studies in the NT
Highlights
Comments on the meaning, derivation, and uses of significant Greek words and idioms
Was first published in 1887 in four volumes
Useful even if you don't know any Greek
Named as one of the 850 Books for Biblical Expositors by the Master's Seminary
Product Details
Originally published in 1887, Marvin Vincent's Word Studies in the New Testament offers a verse by verse comments on the meaning, derivation, and uses of significant Greek words and idioms. These comments help bring you a clearer understanding of the original language of the New Testament—even if you don't read a word of Greek.
This Word Study is like a taking a New Testament Greek class from Dr. Vincent personally. His illumination of the text, along with the practical application will help you unlock the vast riches of the New Testament for yourself.
About the Author
Dr. Marvin Vincent, served as Baldwin Professor of Sacred Literature at the Union Theological Seminary in New York, New York.