Find this product on Logos.com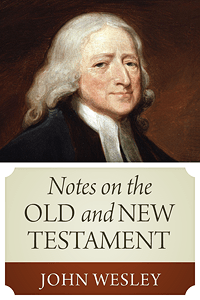 Wesley's Commentary
Notes on the Old and New Testament
Highlights
An in-depth Commentary from a Wesleyan-Arminian perspective
A must have companion to Wesley's New Testament Bible
Originally published in four volumes
Product Details
Wesley first wrote his Explanatory Notes Upon the New Testament in 1755. The notes were intended to be understood by everyone and are concise and to the point. The Old Testament version of Explanatory Notes were published in 1776. Most of the Old Testament is influenced by Matthew Henry and Matthew Poole's writings. However, all references to the doctrine of "absolute, irrespective, unconditional predestination" have been removed.
About the Author
John Wesley (1703-1791) was an eighteenth-century century Anglican evangelist and founder of the Wesleyan Tradition, also known as the Arminian Methodist Movement.
While at Oxford University, John and his brother Charles founded the "Holy Club" which was ascribed the epitaph "Methodists", because of the club's focus upon following rules when it came to personal conduct and religious observances.
The Methodism movement under Wesley's direction, took the lead in many social justice issues of the day including, prison reform, and abolitionism movements. Wesley's strength as a theologian lay in his ability to combine seemingly contradicting theological views. Wesley is best known for his promotion of what he termed "Christian perfection," or "holiness of heart and life." Wesley insisted that in this life, the Christian could come to a state where the love of God, or perfect love, reigned supreme in one's heart.
The doctrines which Wesley revived, restated, and emphasized in his sermons and writings, are prevenient grace, present personal salvation by faith, the witness of the Spirit, and sanctification.
Endorsements
No single person touched so many hearts and did so much for England