Find this product on Logos.com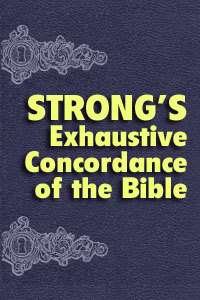 Strong's Concordance/ Greek and Hebrew Dictionary
Highlights
Hear over 13,000 Greek and Hebrew works pronounced
The most popular resource for researching Greek and Hebrew words
Search for words Topically and by Strong's number
Named as one of the 850 Books for Biblical Expositors by the Master's Seminary
A favorite of Pastor Chuck Smith
Product Details
Dr. James Strong and a team of scholars spent more than thirty-five years preparing the Strong's numbering system which has become the standard for identifying words with links to the original Greek and Hebrew words. With the numbering system tied to a particular word in English, the average lay-person can easily study the meanings of the Greek and Hebrew words.
First published in 1890, this tool is still used today by pastors, scholars and laymen alike for nearly a century.
About the Author
James Strong (1822-1894), LL.D., S.T.D., graduated from Wesleyan University and served as professor of biblical literature at Troy University and later as professor of exegetical theology at Drew Theological Seminary. Dr. Strong was the author of numerous works, including his famous Exhaustive Concordance of the Bible.