Find this product on Logos.com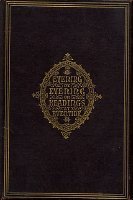 Highlights
Most popular devotional of all time
Spurgeon Classic
Readings for every day
Covers every book of the Bible
Also available as a KINDLE download
Product Details
Charles Haddon Spurgeon, the Prince of Preachers, wrote one of the best devotionals that has stood the test of time. It brings together the best of Bible teaching with thoughtful illustrations to apply God's word to your everyday life. Morning and Evening is a must have resource for your daily personal devotional readings.
About the Author
Few people in history can be known by one name and have it ring true with their audience, and Charles Haddon Spurgeon is one of them. Over time, Spurgeon has become known and revered as the "Prince of Preachers". In the last 200 years he has been one of the most influential men for not only Preachers of the Gospel but for those who have not had the opportunity to hear and receive the Gospel message. He wrote tirelessly over his life, and Wordsearch Bible Software is committed to bring as many of Spurgeon's works as possible to you in electronic form.
The details of Charles Haddon Spurgeon's life still continue to amaze one and all. He was born in Kelvedon, Essex, England, on June 19, 1834. He accepted Christ in 1850 at the age of 15. By age 16, he preached his first sermon in 1851, and by age 20, Spurgeon had already preached over 600 sermons. In 1854, Spurgeon was asked to become pastor of the New Park Street Chapel, one of the sixth largest Baptist Churches in London.
The 1200 seat Chapel had previously been pastored by Dr. John Gill among others, and it carried a rich heritage with it. Although the Church was located in the midst of a filthy industrial district which was hard to reach, by 1855, it was obvious that the Church must start meeting at the Exter Hall while the Church building was expanded. When the expansion was completed, it still was too small and the congregation was forced to start meeting at the Surey Music Hall. By 1856, over 10,000 people would crowd the hall just to get a chance to hear Spurgeon preach a sermon.
To accommodate the growing number of people, the church voted to build a new sanctuary and to change the name of the Church to the Metropolitan Tabernacle. On March 31, 1861, the first service was held in the sanctuary, with a capacity of 5,600 was the largest non-conformist church in the world.
When Spurgeon came to New Park Street in 1854 it had a membership of just 232 members. By the end of 1891, 14,460 souls had been baptized and added to the church with a standing membership of 5311. Spurgeon ministered there for over 30 years. It is estimated that over his lifetime he preached to over 10,000,000 people.
Endorsements
Those who have learnt the value of morning devotion, will highly prize these helps. All who have a love a full-orbed gospel, vigorous, varied thought, and a racy style, will appreciate this volume.
Ever since I became acquainted with Mr. Spurgeon 'Morning and Evening' I have reckoned it altogether priceless, not only myself using it every day with joy and profit, but sending it abroad to members of my family in distant lands, giving it as a present to a friend after friend, and in other ways endeavouring to extend the knowledge and use of it on every side. On learning that 'Evening by Evening' was published, how gladly I bade it welcome! And I humbly commend it in no higher terms than by simply saying that it will be found a fit companion, every way, for its forerunner of the morning.
I've always loved Charles Spurgeon for his plainspokenness, his courage, his enthusiasm for the Word of God, his love for the truth, his command of the English language, and his ability to use simple, vivid language to make difficult truths inescapably clear.
One day I heard a friend say, "I write my sermons, then I read Spurgeon to see how he dealt with the text." The Prince of Preachers is still head of the class.
This may be regarded as the finest collection of Daily Readings available