Find this product on Logos.com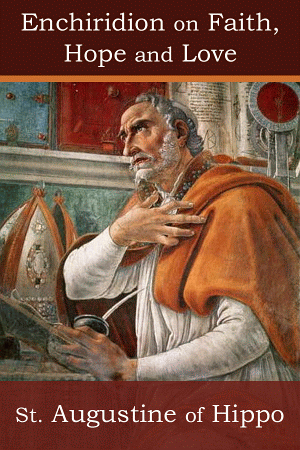 Enchiridion On Faith, Hope and Love
Highlights
Essential Christian teaching in the briefest possible form
Product Details
Enchiridion On Faith, Hope and Loveis a briefer treatise on the grace of God and represents Augustine's fully matured theological perspective -- after the magnificent achievements of the De Trinitate and the greater part of the De civitate Dei, and after the tremendous turmoil of the Pelagian controversy in which the doctrine of grace was the exact epicenter. Sometime in 421, Augustine received a request from one Laurentius, a Christian layman who was the brother of the tribune Dulcitius (for whom Augustine wrote the De octo dulcitii quaestionibus in 423-425). This Laurentius wanted a handbook (enchiridion) that would sum up the essential Christian teaching in the briefest possible form. Augustine dryly comments that the shortest complete summary of the Christian faith is that God is to be served by man in faith, hope, and love. Then, acknowledging that this answer might indeed be too brief, he proceeds to expand it in an essay in which he tries unsuccessfully to subdue his natural digressive manner by imposing on it a patently artificial schematism. Despite its awkward form, however, the Enchiridion is one of the most important of all of Augustine's writings, for it is a conscious effort of the theological magistrate of the Western Church to stand on final ground of testimony to the Christian truth — Enchiridion on Faith, Hope, and Love
About the Author
Augustine of Hippo (November 13, 354 – August 28, 430), Bishop of Hippo Regius, also known as St. Augustine or St. Austin, was a Romanized Berber philosopher and theologian.
Augustine, a Latin church father, is one of the most important figures in the development of Western Christianity, who established anew the ancient faith (conditor antiquae rursum fidei) - as his contemporaries described his theological achievements. In his early years he was heavily influenced by Manichaeism and afterwards by the Neo-Platonism of Plotinus, but after his conversion and baptism (387), he developed his own approach to philosophy and theology accommodating a variety of methods and different perspectives. He believed that the grace of Christ was indispensable to human freedom and framed the concepts of original sin and just war. When the Roman Empire in the West was starting to disintegrate, Augustine developed the concept of the Church as a spiritual City of God (in a book of the same name) distinct from the material City of Man. His thought profoundly influenced the medieval worldview. Augustine's City of God was closely identified with the church, and was the community which worshiped God.
Augustine was born in the city of Thagaste, the present day Souk Ahras, Algeria, to a pagan father named Patricius and a Catholic mother named Monica. He was educated in North Africa and resisted his mother's pleas to become Christian. Living as a pagan intellectual, he took a concubine and became a Manichean. Later he converted to Christianity, became a bishop, and opposed heresies, such as the belief that people can have the ability to choose to be good to such a degree as to merit salvation without divine aid (Pelagianism).
In the Catholic Church and the Anglican Communion, he is a saint and pre-eminent Doctor of the Church, and the patron of the Augustinian religious order; his memorial is celebrated 28 August. Many Protestants, especially Calvinists, consider him to be one of the theological fathers of Reformation teaching on salvation and divine grace. In the Eastern Orthodox Church he is blessed, and his feast day is celebrated on 15 June, though a minority are of the opinion that he is a heretic, primarily because of his statements concerning what became known as the filioque clause. Among the Orthodox he is called Blessed Augustine, or St. Augustine the Blessed.
Endorsements
After Jesus and Paul, Augustine of Hippo is the most influential figure in the history of Christianity