Find this product on Logos.com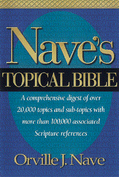 Highlights
Features over 20,000 topics and subtopics with more than 100,000 associated Scripture references
The best known of all topical bibles
Named as one of the 850 Books for Biblical Expositors by the Master's Seminary
Product Details
While serving as a Chaplain in the US Army, Orville J. Nave authored what he then called the Digest of the Scriptures in 1896. Originally published by the Topical Bible Publishing Company of New York, New York, this work which was later called Nave's Topical Bible, has been a valuable Bible-study reference and a best seller for more than 75 years.
It is a comprehensive digest of over 20,000 topics and subtopics with more than 100,000 associated Scripture references. The most significant references for each topic actually include the full text of the verse cited-saving the need to separately look up each verse.
Because Nave's Topical Bible groups verses by "idea" (or "topic"), it offers a better overview of relevant Scriptures than a concordance, which only lists or indexes verses according to specific words. This edition also includes the helpful Scripture index (left out of some other editions), which makes it possible for the reader studying a particular biblical text to locate every topic and grouping of Scripture in Nave's whenever a particular verse is included. That way, it is possible for the reader to study either all the verses related to a particular topic or all the topics related to a particular verse-it works both ways.
This is perfect for the pastor or teacher interested in saving hours of time, but not willing to give their second best. And also for anyone wanting to be challenged by what God has to say about a given subject, Nave's Topical Bible is the passport that will allow immediate and successful entry to the many points of interest.
About the Author
Orville J. Nave, A.M., D.D., LL.D, was born in Galion, Ohio in 1841. Nave served almost twenty-three years as chaplain in the Regular Army, from which he retired in April, 1905. He was a private soldier during the Civil War, entrusted by the colonel of the regiment of the 111th Illinois Volunteers of Infantry, with all the duties of chaplain. Nave also served as a volunteer policeman, a volunteer county probation officer and as chaplain of the city and county jails of Los Angeles. He served as president of Religious Welfare League for the Army and Navy. He also served as Chaplain in Chief or the Grand Army of the Republic from 1866-1949. Orville J. Nave passed away in the fall of 1917.
Endorsements
Outside of the Bible, this is the book I depend on more than any other. Certainly there has been no book that has helped me more in my study.