Find this product on Logos.com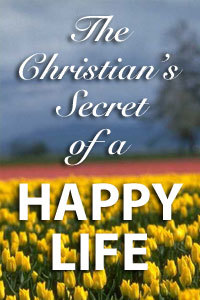 The Christian's Secret of a Happy Life
Highlights
Reveals the secret-how to make unhappiness and uncertainty give way to serenity and confidence in every day of your life
Experience deep spiritual assurance
Helps you answer the question; is your life all you want it to be?
Product Details
Hannah Whitall Smith became a Christian in early adulthood, and because of the changes in her life that came of her conversion, she authored The Christian's Secret of a Happy Life. This work which began as a series of newspaper articles in 1873, became a book two years later.
This inspirational classic not only encourages the reader to examine God's promises for their own life, but it also gives practical advice on how to live a different life because of these promises. This "Secret" has been inspiring readers for nearly 150 years.
About the Author
Hannah Tatum Whitall Smith was born in Philadelphia in 1832. Smith was from a long line of prominent and influential Quakers in New Jersey. On November 5, 1851 Hannah married Robert Pearsall Smith, a man who also was descended from a long line of prominent Quakers in the region. The Smiths settled in Germantown, Pennsylvania. They left the Quakers in 1858 after undergoing a Christian conversion. The Smiths were highly influenced firstly by the Plymouth Brethren, and then by the Methodist revivalists. They adopted the Wesleyan doctrine of sanctification.
Robert and Hannah joined the Holiness movement as speakers and from 1873–1874 they spoke at various places in England, including Oxford, teaching on the subjects of the "higher life" and "holiness." In 1874 Hannah helped found the Women's Christian Temperance Union. That same year the Smiths traveled to the German Empire and Switzerland, where they preached in several major cities. In 1875, they returned to England and conducted meetings in Brighton.
She wrote her spiritual autobiography,The Unselfishness of God And How I Discovered It, in 1903. Many publications of that book omit the three chapters which explain how she became a Christian universalist. Hannah Whitall Smith died in England in 1911.
Endorsements
Mrs. Hannah Whitall Smith has an international reputation as as earnest Christian worker and an original expounder of the Bible. She has an instructive way of going direct to the heart of things.
One of the most inspiring and influential books we have ever read.