Find this product on Logos.com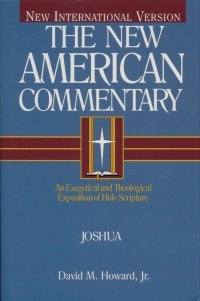 New American Commentary - Joshua
Vol. 5
Highlights
A thorough, verse-by-verse analysis
Insightful and technical aimed at the serious Bible scholar
Great for the pastor or serious Bible student
Vast in scope, eventually to total 42 volumes
Over 40 scholars worked on the complete set
Named by the R. C. Ryan Center for Biblical Studies as one of the Best Tools for Preaching and Teaching
Product Details
The New American Commentary Series
In development for over a decade, The New American Commentary series is for those who have been seeking a commentary that honors the Scriptures, represents the finest in contemporary evangelical scholarship and lends itself to practical work of preaching and teaching. This comprehensive series serves as a minister's friend and a Bible student's guide.
The New American Commentary is based on the inerrancy of Scripture, focuses on the intrinsic theological and exegetical concerns of each Biblical book, and engages the range of issues raised in contemporary Biblical scholarship. Drawing on the skills and insight of over forty Bible scholars, the New American Commentary brings together scholarship and piety to produce a tool that enhances and supports the life of the church.
About the Author
David M. Howard, Jr.,B.S. Geneva College; M.A. Wheaton College; Ph.D. University of Michigan, is a professor at North Georgia Undergraduate a hub of the New Orleans Baptist Theological Seminary. He has taught Old Testament on the seminary level for 16 years and has been active in the Evangelical Theological Society (currently the book review editor for their journal), and the Society for Biblical Literature, as well as other professional organizations. Dr. Howard has served as a Bible translator and is the author of several books and numerous articles on the Old Testament. He is especially noted for his work on the historical books and the Book of Psalms.
Endorsements
Students and teachers alike will warmly welcome this commentary on the Book of Joshua, both for its engaging and lucid literary style and especially for its comprehensive and skillful navigation of some difficult and turbulent theological waters in our modern world.
Dr. Howard's work displays evangelical scholarship at its best. Pastors and teachers will find in this work a reliable guide, amply documented and informed by the latest in Old Testament scholarship. Especially noteworthy is the focus on theological themes and issues in the book. Problem passages and moral-ethical questions are not side-stepped, but given extended treatment, with helpful suggestions for further reading. This commentary establishes a new benchmark for studies on Joshua.