Find this product on Logos.com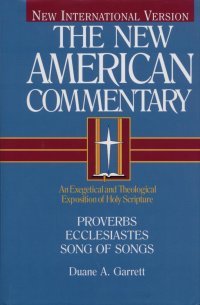 New American Commentary - Proverbs, Ecclesiastes, Song of Solomon
Vol. 14
Highlights
Through a verse-by-verse analysis of these three epistles
Over 40 scholars worked on the complete set
Insightful and technical aimed at the serious Bible scholar
Great for the pastor or serious Bible student
Vast in scope, 38 volumes in all
Product Details
The New American Commentary Series
In development for over a decade, The New American Commentary series is for those who have been seeking a commentary that honors the Scriptures, represents the finest in contemporary evangelical scholarship and lends itself to practical work of preaching and teaching. This comprehensive series serves as a minister's friend and a Bible student's guide.
The New American Commentary is based on the inerrancy of Scripture, focuses on the intrinsic theological and exegetical concerns of each Biblical book, and engages the range of issues raised in contemporary Biblical scholarship. Drawing on the skills and insight of over forty Bible scholars, the New American Commentary brings together scholarship and piety to produce a tool that enhances and supports the life of the church.
Highlights of This Volume
The Old Testament wisdom books deserve more attention than Christians usually give them. In the context of growing ethical chaos in modern society, we need to look afresh at the timeless principles of godly living found in these books. Dealing with practical issues like death, politics, business, marriage, and sex, they furnish the student and preacher of the Bible with essential guidance for life in a sin-sick world. Dr. Garrett side-steps none of the student's difficult questions as he provides a careful analysis and insightful application from these stimulating and challenging books.
About the Author
Duane A. Garrett is Professor of Old Testament Interpretation at the Southern Baptist Theological Seminary. He received a B.A. in Classics from Rice University, the M.Div. from Trinity Evangelical Divinity School, and the Ph.D. from Baylor University. He has served on the faculty of Gordon-Conwell Theological Seminary. He taught previously at the Korea Baptist Theological Seminary, Mid-American Baptist Theological Seminary, the Canadian Southern Baptist Seminary, and Bethel Seminary. He is the author of a commentary on Hosea and Joel, New American Commentary, Rethinking Genesis, Angels and the New Spirituality, and numerous other publications. He is the co-editor of Authority and Interpretations: A Baptist Perspective.He also serves as the general editor for The Archaeology Study Bible.
Endorsements
This commentary peels back the cultural skin wisdom literature appears to have, revealing undetected but usable truths for people in our pressured times. It makes Bible sense into common sense for today