Find this product on Logos.com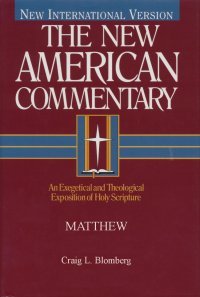 New American Commentary - Matthew
Vol. 22
Highlights
A thorough, verse-by-verse analysis
Insightful and technical aimed at the serious Bible scholar
Named by the R. C. Ryan Center for Biblical Studies as one of the Best Tools for Preaching and Teaching
Product Details
The New American Commentary Series
In development for over a decade, The New American Commentary series is for those who have been seeking a commentary that honors the Scriptures, represents the finest in contemporary evangelical scholarship and lends itself to practical work of preaching and teaching. This comprehensive series serves as a minister's friend and a Bible student's guide.
The New American Commentary is based on the inerrancy of Scripture, focuses on the intrinsic theological and exegetical concerns of each Biblical book, and engages the range of issues raised in contemporary Biblical scholarship. Drawing on the skills and insight of over forty Bible scholars, the New American Commentary brings together scholarship and piety to produce a tool that enhances and supports the life of the church.
Highlights of This Volume
In this commentary Craig L. Blomberg examines the three main stages of Matthew's portrayal of Jesus' ministry. He brilliantly presents a theological understanding of the Gospel writer's presentation of Jesus' birth, teaching, mission, death, resurrection, and kingdom work. Blomberg's interaction with contemporary scholarship coupled with his fresh interpretations and applications makes this work immeasurably valuable. It is an ideal tool for sermon preparation, classroom use, or individual and group in-depth study.
About the Author

Dr. Blomberg completed his PhD in New Testament, specializing in the parables and the writings of Luke-Acts, at Aberdeen University in Scotland. He received an MA from Trinity Evangelical Divinity School, and a BA from Augustana College. He was an assistant professor of Religion at Palm Beach Atlantic College and took a leave of absence to accept a one-year research fellowship in Cambridge, England with the British wing of the InterVarsity Christian Fellowship.
In addition to writing numerous articles in professional journals, multi-author works and dictionaries or encyclopedias, he has authored or edited 15 books. Blomberg has written on a diverse range of issues including wealth and poverty, hermeneutics, and women in ministry. However, his academic work has tended to focus on the Historical Jesus and Gospels research.
Dr. Craig Blomberg joined the faculty of Denver Seminary in 1986. He is currently a distinguished professor of New Testament.
Endorsements
This volume on Matthew is a model of exegetical clarity, bibliographic review, and theological synthesis of the thought of Matthew. I can think of no better volume to recommend to seminarians and pastors for a succinct explanation of a passage in Matthew.