Find this product on Logos.com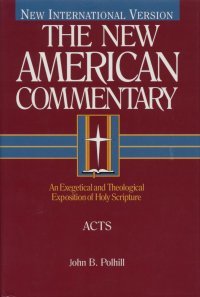 New American Commentary - Acts
Vol. 26
Highlights
A thorough, verse-by-verse analysis
Insightful and technical aimed at the serious Bible scholar
Great for the pastor or serious Bible student
Vast in scope, eventually to total 42 volumes
Over 40 scholars worked on the complete set
Named by the R. C. Ryan Center for Biblical Studies as one of the Best Tools for Preaching and Teaching
Product Details
The New American Commentary Series
In development for over a decade, The New American Commentary series is for those who have been seeking a commentary that honors the Scriptures, represents the finest in contemporary evangelical scholarship and lends itself to practical work of preaching and teaching. This comprehensive series serves as a minister's friend and a Bible student's guide.
The New American Commentary is based on the inerrancy of Scripture, focuses on the intrinsic theological and exegetical concerns of each Biblical book, and engages the range of issues raised in contemporary Biblical scholarship. Drawing on the skills and insight of over forty Bible scholars, the New American Commentary brings together scholarship and piety to produce a tool that enhances and supports the life of the church.
Highlights of This Volume
John B. Polhill traces the advancement of the Christian mission from its beginnings in Jerusalem to the Gentile-dominated church in Rome. Along the way the readers see afresh the movement of the Holy Spirit in Peter, Stephen, Philip, and Paul. Polhill wrestles with the history of interpretation of the Book of Acts while providing solid exegetical support for his own positions. This thorough and readable commentary examines the theological foundations of the early church's preaching and offers practical help for teachers and preachers alike in the contemporary Christian community.
About the Author
John B. Polhill earned his B.A., at the University of Richmond, his M.Div., and Ph.D., at The Southern Baptist Theological Seminary, and additional studies at: Harvard Divinity School; University of St. Andrews; Princeton Theological Seminary; University of California, Berkeley. He is a Senior Professor of New Testament Interpretation at The Southern Baptist Theological Seminary.
Dr. Polhill is the author Paul and His Letters and has contributed to numerous journals, reference works, and denominational publications. He is a member of the Society of Biblical Literature and the National Association of Baptist Professors of Religion. He is a frequent speaker at Bible conferences in the United States and abroad. A devoted churchman, he has served as pastor of congregations in Virginia, Kentucky, and Massachusetts.
Endorsements
John B. Polhill's magisterial commentary on Acts is a rare combination of technical scholarship and theological reflection. That Polhill has clearly mastered the voluminous secondary literature on Acts is evident from the footnotes, though his dialogue with past scholarship does not obscure his own sustained theological exegesis. His methods are current, his treatment of other views is even-handed, and his theological reflections are penetrating. Polhill's commentary takes its place on my shelf alongside the other luminaries of Acts scholarship (Haenchen, Conzelmann, Bruce) and will prove to be for American evangelical scholarship what F. F. Bruce's Acts of the Apostles has been for British evangelicalism.
The scholarship behind The New American Commentary is first rate, but the books are written clearly enough for ordinary people to understand them. These books bring out something of the profound meaning of the original writers.