Find this product on Logos.com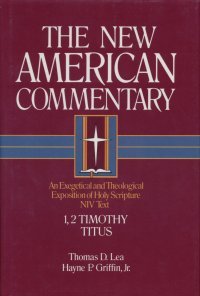 New American Commentary -1 and 2 Timothy, Titus
Vol. 34
Highlights
A thorough, verse-by-verse analysis
Insightful and technical aimed at the serious Bible scholar
Vast in scope, eventually to total 42 volumes
Over 40 scholars worked on the complete set
Product Details
The New American Commentary Series
In development for over a decade, The New American Commentary series is for those who have been seeking a commentary that honors the Scriptures, represents the finest in contemporary evangelical scholarship and lends itself to practical work of preaching and teaching. This comprehensive series serves as a minister's friend and a Bible student's guide.
The New American Commentary is based on the inerrancy of Scripture, focuses on the intrinsic theological and exegetical concerns of each Biblical book, and engages the range of issues raised in contemporary Biblical scholarship. Drawing on the skills and insight of over forty Bible scholars, the New American Commentary brings together scholarship and piety to produce a tool that enhances and supports the life of the church.
Highlights of This Volume
Thomas D. Lea and Hayne P. Griffin, Jr. enable the readers of the Pastoral Epistles to understand clearly what the biblical text actually says and what it means. Questions relating to authorship and date are carefully and concisely handled in the introductory material. Without unduly bringing the reader into scholarly technicalities and debates surrounding these important books, the authors, in a straightforward manner, show how these letters serve as trustworthy guides for the church today.
About the Authors
Thomas D. Lea (?-1999) earned his Th.D. at Southwestern Seminary. He is the author of numerous articles and is the coauthor of commentaries on 1 Corinthians and 1-2 Peter, Jude. He served as Dean of the School Theology at Southwestern Baptist Theological Seminary in Fort Worth, Texas. He is also a Mississippi State alumni, class of 1960.
Hayne P. Griffin, Jr. is a graduate of Furman University, B.A.; Trinity Evangelical Divinity School, M.Div. and the University of Aberdeen, Ph.D. He resides with his family in Greer, South Carolina.
Endorsements
The authors of this commentary focus on the practical implications of the Pastoral Epistles for the life and nurture of the church and its leadership today. The volume is a worthy addition to a growing series of helpful tools for pastor and student alike