Find this product on Logos.com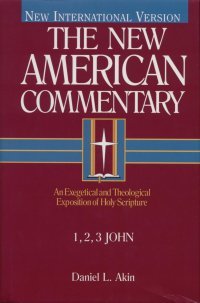 New American Commentary - 1, 2, 3 John
Vol. 38
Highlights
A thorough, verse-by-verse analysis
Insightful and technical aimed at the serious Bible scholar
Great for the pastor or serious Bible student
Vast in scope, eventually to total 42 volumes
Over 40 scholars worked on the complete set
Named by the R. C. Ryan Center for Biblical Studies as one of the Best Tools for Preaching and Teaching
Product Details
The New American Commentary Series
In development for over a decade, The New American Commentary series is for those who have been seeking a commentary that honors the Scriptures, represents the finest in contemporary evangelical scholarship and lends itself to practical work of preaching and teaching. This comprehensive series serves as a minister's friend and a Bible student's guide.
The New American Commentary is based on the inerrancy of Scripture, focuses on the intrinsic theological and exegetical concerns of each Biblical book, and engages the range of issues raised in contemporary Biblical scholarship. Drawing on the skills and insight of over forty Bible scholars, the New American Commentary brings together scholarship and piety to produce a tool that enhances and supports the life of the church.
Highlights of This Volume
In this exposition of the epistles of John, Dr. Akin examines the person and work of Christ, the avenues of assurance in salvation, and the ever-present danger of false teaching to the Christian community. What we believe and how we live are carefully explored and shown to be essential to a vibrant Christian life.
Although the second and third letters have been somewhat neglected, the first letter has proved to be a perennial favorite of the church throughout its history. Through careful exegesis, Dr. Akin shows all three epistles of John to be both simple and profound while offering a message for the church in any generation.
About the Author
Daniel L. Akin was born in of 1957 in Atlanta, Georgia. He earned his B.A., at Criswell Colleget; M.Div. degree from Southwestern Baptist Theological Seminary and his Ph.D. degree from the University of Texas at Arlington. He is the President of Southeastern Baptist Theology Seminary and has been teaching at Southeastern since 2004. Before serving at president he was the Dean of the School of Theology at The Southern Baptist Theological Seminary.
Dr. Akin has served in missionary work all over the world including: Australia, Thailand, Paraguay, India, Asia and the Middle East. He is affiliated with the Evangelical Theological Society. In addition to authoring numerous articles for scholarly journals and reference works, he served as the New Testament editor of The Believers Study Bible and has authored over twenty books.
Endorsements
With remarkable insight of the preacher-theologian, Danny Akin not only has provided a superb exegesis of the Joahnnine Epistles but also has presented the exposition in such a way that the preacher will find this one of the most useful commentaries in his library.