Find this product on Logos.com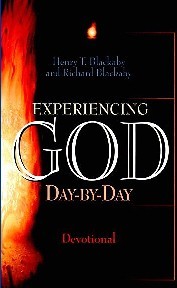 Experiencing God Day by Day
Highlights
Day by day devotional
Rich and profound, filled with insights from Richard and Henry Blackaby's writing
and ministry
Includes Bible verses from the Holman Christian Standard Bible
Product Details
Experiencing God Day-By-Day is a devotional journal designed to reinforce the spiritual precepts set forth in the Experiencing God book, workbook, and study Bible. There is a page for each day of the year with a Bible verse from the Holman Christian Standard Bible, and a short devotional reading. The readings are filled with truths gleaned from Richard and Henry Blackaby writings and ministry, and written with characteristic grace and spiritual insight.
Knowing God's will requires discipline and perseverance. There are no shortcuts. Experiencing God Day-By-Day is a unique and valuable guide for helping you achieve results in your spiritual quest day by day.
About the Authors:
Henry Blackaby is the author of over a dozen books, including the best-selling Experiencing God Bible studies. Dr. Blackaby is a graduate of the University of British Columbia, Vancouver, Canada. He has completed his Th.M. degree from Golden Gate Baptist Theological Seminary. He has also received four honorary doctorate degrees and is now serving as the president of Henry Blackaby Ministries. Dr. Blackaby and his wife, Marilynn, have five married children, all serving in Christian ministry. They are also blessed with fourteen grandchildren.
Richard Blackaby is the oldest child of Henry and Marilynn. He graduated from the University of Saskatchewan with a B.A. in history and earned an M.Div. and Ph.D. from Southwestern Baptist Theological Seminary. Richard served as pastor of Friendship Baptist Church in Winnipeg, Manitoba, before accepting the position of President of the Canadian Southern Baptist Seminary in Cochrane, Alberta. He and his wife Lisa have three children: Michael, Daniel, and Carrie.