Find this product on Logos.com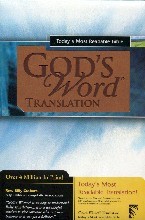 GOD'S Word Translation (GWT)
Highlights
Closest Natural Equivalence
Product Details
GOD'S Word Translation is the work of GOD'S Word to the Nations Bible Society. The Society formed a full-time team of five scholars, 17 technical reviewers, and four English reviewers. The team started their work early in 1994 and turned GOD'S Word Translation over for publication in March 1995. This translation uses natural grammar, follows standard punctuation and capitalization rules, and is printed in an open single column format.
The theory followed by the Bible Society's translators is "closest natural equivalent translation." The first consideration was to find equivalent English ways of expressing the meaning of the original text. The second consideration was readability. The third consideration was to choose the natural equivalent that most clearly reflects the style of the Hebrew, Aramaic, or Greek text.
In prose, GOD'S Word Translation looks like other works of literature. It contains frequent paragraphing and whenever a different speaker's words are quoted, a new paragraph begins. The prose style of GOD'S Word translation favors concise, clear sentences.
Poetry in GOD's Word Translation is instantly recognized by its format. The single-column format enables readers to recognize parallel thoughts in parallel lines of poetry. In a single-column, across-the-page layout, a variety of indentations are possible. The Bible Society's translators have used indentation to indicate the relationship of one line to others in the same context. This enables a person reading the Bible in English to appreciate the Bible's poetry in much the same way a person reading the Bible in the original languages of Hebrew, Aramaic or Greek would appreciate it.
Endorsements
GOD'S WORD is an easy-to-understand Bible.... it is a wonderful version to give to someone who is a new believer or is not yet a believer
Even if the rather prolific output of modern translations, paraphrases, and versions of Scripture should increase, this particular linguistic achievement, GOD'S WORD, will rank among the top contenders with the Bible-reading public
The Bible is the means God has chosen to reach out in human language, reveal the essence of His relational heart, and relate the Good News of His redemptive plan. GOD'S WORD Translation Bible presents that message in a way that makes sense to readers of all ages. It is an accurate translation using modern English language and phraseology which makes it easier to understand. That is why we are making this translation available on our Beyond Belief Tour to pastors, youth workers, parents and young people.
GOD'S WORD Translation updates the living words of God to be more accessible to the 21st century believer, just as the King James Version was a breakthrough of understanding for its time. You don't need a seminary degree for GOD'S WORD Translation to make sense - just a little bit of time every day to hear what God wants to say to you. This is a version that my children and I can read and understand together.
GOD'S WORD is very possibly the most accurate English translation of the original text available today. GOD'S WORD is a must-read for 21st century Christians.
In our prison units throughout the United States we use GOD'S WORD as the foundation Bible in our Christ-centered, Bible-based transformational program for inmates. Not only are we pleased with the manner in which these men of all educational and spiritual levels have responded to this translation, I have also found the God's Word to the Nations staff to be just great to work with.... They truly are partners in our work of assisting prisoners develop a meaningful relationship with Christ.