Find this product on Logos.com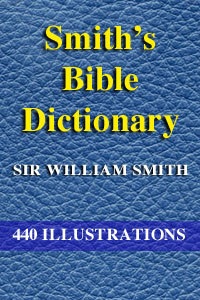 Highlights
Features over 4500 different subjects
A trustworthy classic of Bible scholarship
First published in 1863, most likely the first Bible dictionary ever published
Product Details
Smith's Bible Dictionary contains over 4500 entries from A to Zuzim. This electronic version does not contain the 4000 questions and answers, illustrations or the appendix charts. William Smith completed this original three-volume dictionary in 1863. In 1884, F.N. and Mary Abby Peloubet revised the original work into one compact volume adding information gleaned from archaeological discoveries and geographical advances unavailable for the original edition.
About the Author
Sir William Smith was born at Enfield in 1813. He was originally destined for a theological career, but instead was articled to a solicitor. In his spare time he taught himself classics, and when he entered University College London he carried off both the Greek and Latin prizes. He was apprenticed at Gray's Inn in 1830, but gave up his legal studies for a post at University College School, and began to write on classical subjects. He next turned his attention to practical lexicography. His first attempt was A Dictionary of Greek and Roman Antiquities, which appeared in 1842. In 1849 followed the Dictionary of Greek and Roman Biography and Mythology and the Dictionary of Greek and Roman Geography in 1857.
In 1850 he published the first of the school dictionaries; and in 1853 he began the Principia series, which marked a distinct step in the school teaching of Greek and Latin. Then came the Students' Manuals of History and Literature, in which the Greek history was the editor's own work. Perhaps the most important of the books Smith edited were those that dealt with ecclesiastical subjects. These were the Dictionary of the Bible (1860–1865); the Dictionary of Christian Antiquities (1875-1880), undertaken in collaboration with Archdeacon Samuel Cheetham; and the Dictionary of Christian Biography(1877–1887), jointly with Dr. Henry Wace.
From 1853 to 1869 Smith was the classical examiner to the University of London, and on his retirement he became a member of the Senate. He sat on the Committee to inquire into questions of copyright, and was for several years registrar of the Royal Literary Fund. In 1867, he became editor of the Quarterly Review, which he directed with marked success until his death; his remarkable memory and accuracy, as well as his tact and courtesy, specially fitting him for such a post. He was the Doctor of Cannon Law of Oxford and Dublin, and the honour of knighthood was conferred on him the year before his death on the 7th of October, 1893.