Find this product on Logos.com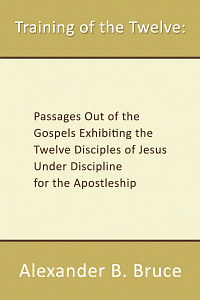 Training of the Twelve
Passages Out of the Gospels Exhibiting the Twelve Disciples of Jesus Under Discipline for the Apostleship
Highlights
A true Christian classic
Features timeless management models for the church today
An essential work for pastors and teachers alike
Named as one of the 850 Books for Biblical Expositors by the Master's Seminary
Product Details
A. B. Bruce illuminates the lessons and patterns, in ageless management principles, employed by our Lord with His disciples. This is an inspiring model for those who seek greater depth and stability in the Christian Church today. Featured in this classic work is Christ the Master Potter, molding and fashioning His disciples into useful vessels.
The Training of the Twelve is rich in thought, not only for the preacher and teacher, but also for every Christian interested in being a leader or preparing others to lead.
About the Author

Alexander Balmain Bruce was born in 1831 at Aberargie near Perth, Scotland. He was the son of a Perthshire farmer who had left the Church of Scotland and joined the Free Church. Bruce was educated at the university and the Free Church Divinity College in Edinburgh. He ministered at Cardross (1859-1868) and Broughty Ferry (1868-1875). There he published his first notable exegetical work, the Training of the Twelve.
He was then appointed professor of apologetics and New Testament exegesis in the Free Church College, Glasgow (1875-1899). A good teacher and scholar of independent mind, Bruce was "in sympathy with modern religious thought, while maintaining solidarity with all that is best in the theology of the past; in favor of freedom in critical inquiries on the basis of evangelical faith, and of a simplified and more comprehensive creed." He maintained that viewpoint in his books;The Humiliation of Christ (1876), The Kingdom of God (1889) and St. Paul's Conception of Christianity(1894). A complaint about the critical content of Bruce's biblical teaching was made to the Free Church's General Assembly of 1890, but was dismissed by that body.
Bruce was convener of the committee which issued the Free Church hymn book, and he threw into this work the same energy and catholicity of mind which marked the rest of his activities. He was buried at Broughty Ferry in 1899.
Endorsements
A significant book that marked me greatly in the whole area of discipleship