Find this product on Logos.com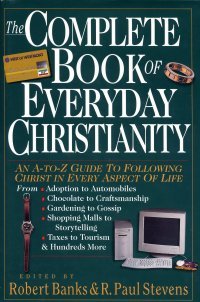 The Complete Book of Everyday Christianity
An A to Z Guide to Following Christ in Every Aspect of Life
Highlights
An A-to-Z guide to following Christ in every aspect of life!
Only available from WORDsearch
Awarded Christianity Today Book of the Year in 1998
Product Details
It isn't always easy to relate Christianity to our day-to-day activities and concerns. Prayer, Bible study and theology are important to our spiritual growth, but what do they have to do with the clothes we wear, our hairstyles, the medication we choose to take, the celebration of wedding anniversaries, or our spending on cars, vacations and housing?
Christian truth is for the routine and not just the crises of our lives. This Handbook offers over 460 articles, from 114 expert (and diverse) contributors on common but key concerns—covering everything from:
Adoption to Automobiles
Chocolate to Craftsmanship
Gardening to Gossip
Shopping malls to Storytelling
Taxes to Television
The Complete Book of Everyday Christianity includes indexes arranged by life stages and passages as well as by topic. Unsurpassed both for fascinating browsing and for consultation at moments of special need, this down-to-earth reference work merits a spot on every Christian's bookshelf.
About the Editors
Robert J. Banks is Senior Research and Development Fellow in the Centre for the History of Christian Thought & Experience at Macquarie University, Sydney, Australia. Formerly he served as executive director of the De Pree Leadership Center and was Homer L. Goddard Professor of the Ministry of the Laity, both at Fuller Theological Seminary. Some of his books include: Paul's Idea of Community and Reviewing Leadership and with his wife he is co-author of the Bible studies Going to Work with God and The Wonderful World of Narnia.
R. Paul Stevens is Professor Emeritus of Marketplace Theology and Leadership at Regent College, Vancouver, British Columbia, and a marketplace ministry mentor. He has worked as a carpenter and businessman, and served as the pastor of an inner-city church in Montreal. He has written many books and Bible studies, including:Liberating the Laity, Marriage Spirituality, The Other Six Days and Satisfying Work.