Find this product on Logos.com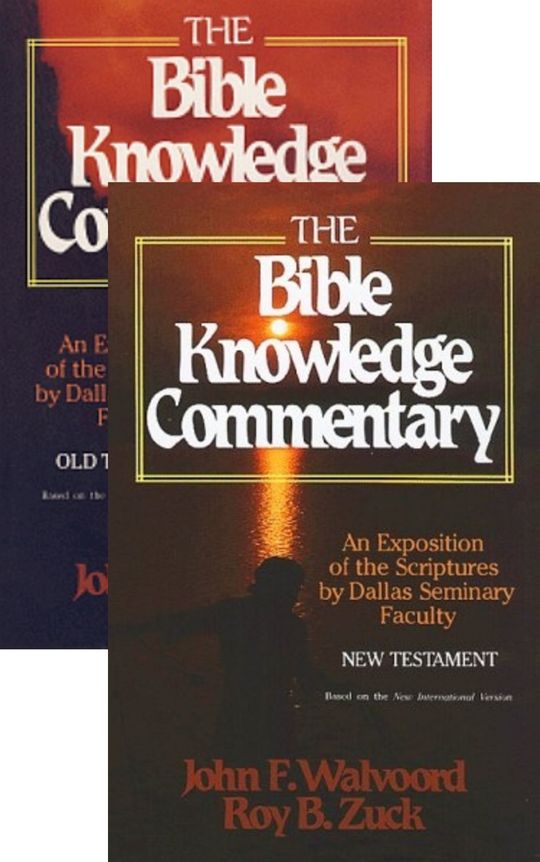 The Bible Knowledge Commentary (2-Vol.)
An Exposition of Scripture by the Dallas Seminary Faculty
Highlights
Based on the New International Version
1995 Christianity Today Book of the Year
From a Dispensationalist viewpoint
Christian Book Distributors' best-selling "small" commentary set for laypeople
Named as one of the 850 Books for Biblical Expositors by the Master's Seminary
Contains two volumes that covers both the Old Testament and New Testament
Product Details
What does that verse mean?, How should I interpret this passage?, What is the significance of this word or phrase in Greek or Hebrew? The Bible Knowledge Commentary answers these and other questions about the Scriptures, discussing the Bible verse by verse and often phrase by phrase. The Bible Knowledge Commentary - popular in style and scholarly in content - will deepen your understanding of God's written Word.
The Bible Knowledge Commentary is an easy-to-understand, careful exposition of the Scriptures by the Dallas Theological Seminary Faculty. Based on the New International Version, it is a perfect tool for any pastor, layperson, Bible teacher, and serious Bible student. The beginner will find it easy to understand, while the experienced scholar will find it consistently thorough and reliable.
About the Editors
John F. Walvoord (1910-2002) was Chancellor and Professor Emeritus,Systematic Theology, Dallas Theological Seminary. He had served on the faculty since 1936 and was inaugurated as its second president in 1953. Known worldwide for his evangelical scholarship, Dr. Walvoord has written or edited twenty six books and dozens of articles for magazines and scholarly journals. He earned two master's degrees, M.A. and Th.M. and Dallas' Doctor of Theology Th.D. degree. In 1960, Wheaton College awarded him the honorary Doctor of Divinity degree and in 1984 Liberty University awarded him the honorary Doctor of Letters degree.
Roy B. Zuck is Senior Professor Emeritus of Biblical Exposition at Dallas Theological Seminary. He serves as Theological and Copy Editor for the Kindred Spirit. He has authored or edited more than seventy books on Christian Education and Bible exposition. He earned his A.B., at Biola University; Th.M., Th.D., at Dallas Theological Seminary and has done post doctoral studies at two universities.
Endorsements
These volumes provide an indispensable resource for Sunday school teachers and laypeople