Find this product on Logos.com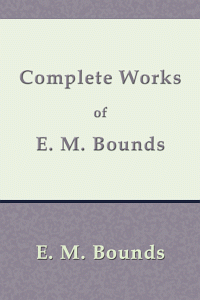 Complete Works of E. M. Bounds on Prayer
Eight Volumes
Highlights
Essentials of Prayer
Necessity of Prayer
Possibilities of Prayer
Power through Prayer
Prayer and Praying Men
Purpose in Prayer
Reality of Prayer
Weapon of Prayer
Product Details
Edward McKendree Bounds' works on prayer are inspiring, dynamic, and forthright. Probably no one has ever written more convincingly on the subject of prayer. These classics on prayer are sure to inspire you to build a closer relationship with God!
About the Author
Bounds was born in Shelby County, rural Missouri in 1835. Shortly after his father's death in 1849, Edward, his eldest brother, and several other relatives joined a wagon train and traveled to Mesquite Canyon in California in hopes of making a fortune in gold mining. After four unsuccessful years, they returned to Missouri and Edward studied law in Hannibal, Missouri. He became the state's youngest practicing lawyer at age nineteen. Although apprenticed as an attorney, Bounds felt called to Christian ministry in his early twenties during the Third Great Awakening. Following a brush arbor revival meeting led by Evangelist Smith Thomas, he closed his law office and moved to Palmyra, Missouri to enroll in the Centenary Seminary. Two years later, in 1859 at the age of 24, he was ordained by his denomination and was named pastor of the nearby Monticello, Missouri Methodist Church.
During the Cival War Bounds became a chaplain in the Confederate States Army (3rd Missouri Infantry CSA). During the First Battle of Franklin, Bounds suffered a severe forehead injury from a Union saber, and he was taken prisoner. On June 28, 1865, Bounds was among Confederate prisoners who were released upon the taking of an oath of loyalty to the United States.
Upon his release as a prisoner of the Union Army, he felt compelled to return to war-torn Franklin and help rebuild it spiritually, and he became the pastor of the Franklin Methodist Episcopal Church, South. His primary method was to establish weekly prayer sessions that sometimes lasted several hours. Bounds was regionally celebrated for leading spiritual revival in Franklin and eventually began an itinerant preaching ministry throughout the country.
After serving several important churches in St. Louis and other places, south, he became Editor of the St. Louis Christian Advocate for eight years and, later, Associate Editor of The Nashville Christian Advocate for four years. E.M. Bounds died in 1913 in Washington, Georgia. Only two of Bounds' books were published before he died. After his death, Rev. Claudius Chilton, Jr., worked on preserving and preparing Bounds' collection of manuscripts for publication. Bounds authored eleven books, nine of which focused on the subject of prayer.
Endorsements
A book every pastor and Christian worker should read.