Find this product on Logos.com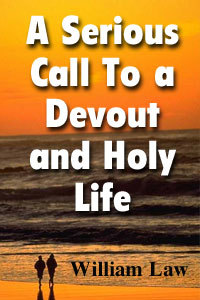 A Serious Call to a Devout and Holy Life
Highlights
A true devotional classic, second only to Pilgrim's Progress
A practical guide for the necessity of regular devotional time with God
Greatly affected the lives of John and Charles Wesley and George Whitefield
Product Details
Serious Call to a Devout and Holy Life as the title indicates, is a book that explores how all Christians should live a life of full devotion to God. Law's intention in writing this book was to challenge the "spiritually dry" of the day, who had become caught up with the tradition and legalism of the Church, rather than living every day in Christ.
About the Author
William Law was born at Kings Cliffe, Northamptonshire in 1686 to a family with substantial means. In 1705 he entered as a sizar at Emmanuel College, Cambridge; in 1711 he was elected fellow of his college and was ordained. He resided at Cambridge, teaching and taking occasional duty until the accession of George I, when his conscience forbade him to take the oaths of allegiance to the new government. In consequence he forfeited his fellowship at the University and lost permanently the right to preach in the Church of England.
For the next few years he is said to have been a curate in London. By 1727 he was domiciled with Edward Gibbon (1666-1736) at Putney as tutor to his son Edward, father of the historian, who says that Law became the chaplain to the whole family. In the same year he accompanied his pupil to Cambridge, and resided with him as governor, in term time, for the next four years. His pupil then went abroad, but Law was left at Putney, where he remained in Gibbon's house for more than ten years, acting as a religious guide not only to the family but to a number of earnest-minded folk who came to consult him. The most eminent of these were the two brothers John and Charles Wesley.
When the elder Gibson died in 1737 the household was dispersed. Law was parted from his friends, and in 1740 retired to Kings Cliffe, where he had inherited from his father a house and a small property. Law's first significant writing was Three Letters to the Bishop of Bangor in 1717, an effective apologetic for orthodox Christianity. In Practical Treatise Upon Christian Perfection, 1726, he laid down rules for achieving a life of piety. Law's reputation rests principally on a A Serious Call to a Devout and Holy Life, 1728. Law lived in the Enlightenment , when many secularists wanted to abandon the prayers of the church. He urged retaining the prayers and bringing people back to a rule of devotion. The first half of A Serious Call sets a standard for honoring God in outward affairs. The second half is a guide to prayer and ordering of the interior life. Though Law's writings lack an emphasis on Christ's redemptive ministry, their insight into the devotional life influenced many evangelicals. In his later years Law founded a school and almshouse - evidence of Law's concept of piety . Law passed away at King's Cliffe in 1761.
Endorsements
Devotional thoughts dealing with the pattern for serving God is daily life and the nurture of the inner life.