Find this product on Logos.com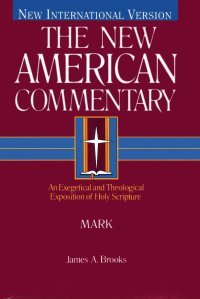 New American Commentary - Mark
Vol. 23
Highlights
A thorough, verse-by-verse analysis
Insightful and technical aimed at the serious Bible scholar
Great for the pastor or serious Bible student
Vast in scope, eventually to total 42 volumes
Over 40 scholars worked on the complete set
Named by the R. C. Ryan Center for Biblical Studies as one of the Best Tools for Preaching and Teaching
Product Details
The New American Commentary Series
In development for over a decade, The New American Commentary series is for those who have been seeking a commentary that honors the Scriptures, represents the finest in contemporary evangelical scholarship and lends itself to practical work of preaching and teaching. This comprehensive series serves as a minister's friend and a Bible student's guide.
The New American Commentary is based on the inerrancy of Scripture, focuses on the intrinsic theological and exegetical concerns of each Biblical book, and engages the range of issues raised in contemporary Biblical scholarship. Drawing on the skills and insight of over forty Bible scholars, the New American Commentary brings together scholarship and piety to produce a tool that enhances and supports the life of the church.
Highlights of This Volume
James A. Brooks approaches the study of the Second Gospel from an exegetical and theological perspective. Brooks explores the textual, grammatical, and contextual keys that unlock the meaning of the Gospel for readers at the end of the twentieth century. His interaction with the biblical text and the writings of ancient and contemporary scholars results in a commentary that is both scholarly and practical for pastors and students alike.
About the Author
James A. Brooks (Ph.D. Princeton; D.Phil. Oxford) is Professor of New Testament Emeritus at Bethel Theological Seminary. He previously taught New Testament at both New Orleans Seminary and Southwestern Seminary. Brooks is the co-author of Syntax of New Testament Greek.
Endorsements
The New American Commentary is a user-friendly tool for advanced Bible study which fills an important need for pastors, students and laity alike. It is an exciting combination of exegetical insight, scholarly depth and spiritual insight, and written to be read. An important new resource for serious students of the Bible, The New American Commentary belongs on every pastor's shelf and in every church library.
The New American Commentary is excellent. The explanations, both of the introductory material and the commentary itself, are clear, full enough to be helpful, but no so lengthy and technical as to curtail widespread use. Any serious Bible student would profit greatly from use of this material.