Find this product on Logos.com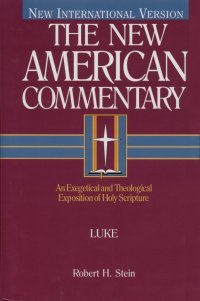 New American Commentary - Luke
Vol. 24
Highlights
A thorough, verse-by-verse analysis
Insightful and technical aimed at the serious Bible scholar
Great for the pastor or serious Bible student
Vast in scope, eventually to total 42 volumes
Over 40 scholars worked on the complete set
Product Details
The New American Commentary Series
In development for over a decade, The New American Commentary series is for those who have been seeking a commentary that honors the Scriptures, represents the finest in contemporary evangelical scholarship and lends itself to practical work of preaching and teaching. This comprehensive series serves as a minister's friend and a Bible student's guide.
The New American Commentary is based on the inerrancy of Scripture, focuses on the intrinsic theological and exegetical concerns of each Biblical book, and engages the range of issues raised in contemporary Biblical scholarship. Drawing on the skills and insight of over forty Bible scholars, the New American Commentary brings together scholarship and piety to produce a tool that enhances and supports the life of the church.
Highlights of This Volume
The study of the Third Gospel enables the reader to see afresh the message and ministry of Jesus Christ. Robert H. Stein provides a scholarly , theological, and yet practical exposition of Luke's narrative. The work is up-to-date, clearly written, and sermonically applicable. By focusing on the Gospel's theological message, Stein bridges the distance between the first century and the twentieth century, enabling believers in the contemporary church to understand Luke's Gospel for today.
About the Author
Robert H. Stein is a senior professor at the Southern Baptist Theological Seminary, Louisville, Kentucky. A widely recognized Gospels scholar, Stein is the author of The Method and Message of Jesus' Teachings, An Introduction to the Parables of Jesus, The Synoptic Problem, A Basic Guide to Interpreting the Bible, Jesus the Messiah, and numerous other significant works. Stein has received degrees from Rutgers University, Fuller Theological Seminary, Andover Newton Theological Seminary, and Princeton Theological Seminary and has done postgraduate studies in Heidelberg and Tübingen.
Endorsements
Robert Stein's Luke represents the rich fruit of a veteran evangelical scholar. His skill in discernment is evident on every page. Here is a valuable, user-friendly, theologically sensitive treatment of an often underappreciated Gospel.