Find this product on Logos.com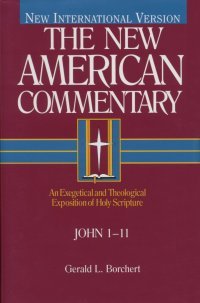 New American Commentary - John 1-11
Vol. 25a
Highlights
A thorough, verse-by-verse analysis
Insightful and technical aimed at the serious Bible scholar
Great for the pastor or serious Bible student
Vast in scope, eventually to total 42 volumes
Over 40 scholars worked on the complete set
Product Details
The New American Commentary Series
In development for over a decade, The New American Commentary series is for those who have been seeking a commentary that honors the Scriptures, represents the finest in contemporary evangelical scholarship and lends itself to practical work of preaching and teaching. This comprehensive series serves as a minister's friend and a Bible student's guide.
The New American Commentary is based on the inerrancy of Scripture, focuses on the intrinsic theological and exegetical concerns of each Biblical book, and engages the range of issues raised in contemporary Biblical scholarship. Drawing on the skills and insight of over forty Bible scholars, the New American Commentary brings together scholarship and piety to produce a tool that enhances and supports the life of the church.
Highlights of This Volume
Thousands of Christians through the centuries have found in John's Gospel an inexhaustible source of life-changing nourishment from the Spirit. The spiritual power of John's presentation brings us face-to-face with God's unique Son who brings true life and light to all who will believe. Dr. Borchert has provided us with a masterful examination of this Gospel. His work is informed by the latest biblical scholarship, directed by a serious regard for the book's narrative quality, and based upon a firm commitment to the truthfulness of God's Word.
About the Author
Gerald Borchert (Ph.D., Princeton Theological Seminary) is professor of New Testament and director of doctoral studies at Northern Baptist Theological Seminary. He has written several books, including Paul and His Interpreters and Assurance and Warning: The Balance between Assurance and Warning in 1 Corinthians, John, and Hebrews. He also has written numerous articles in the fields of biblical studies, theology, and ministry.
Endorsements
With each volume of the New American Commentary the anticipation grows for the next. This is especially true of this first volume on John's Gospel from the pen of Dr. Gerald Borchert. John is a favorite of many for study, memorization, and quotation. Nowhere is the gospel message clearer or the presentation of Christ as the true and only Son of God more profound. John's message comes through loud and clear in this volume. Dr. Borchert has succeeded in being intellectually stimulating, while at the same time preserving the beautiful simplicity of John's message in such passages as John 3:16.