Find this product on Logos.com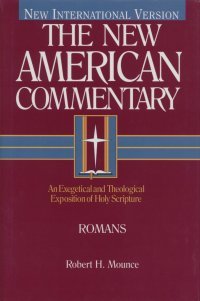 New American Commentary - Romans
Vol. 27
Highlights
A thorough, verse-by-verse analysis
Insightful and technical aimed at the serious Bible scholar
Great for the pastor or serious Bible student
Vast in scope, eventually to total 42 volumes
Over 40 scholars worked on the complete set
Product Details
The New American Commentary Series
In development for over a decade, The New American Commentary series is for those who have been seeking a commentary that honors the Scriptures, represents the finest in contemporary evangelical scholarship and lends itself to practical work of preaching and teaching. This comprehensive series serves as a minister's friend and a Bible student's guide.
The New American Commentary is based on the inerrancy of Scripture, focuses on the intrinsic theological and exegetical concerns of each Biblical book, and engages the range of issues raised in contemporary Biblical scholarship. Drawing on the skills and insight of over forty Bible scholars, the New American Commentary brings together scholarship and piety to produce a tool that enhances and supports the life of the church.
About the Author
Robert H. Mounce (Ph.D. Aberdeen)(1921- ), reformed evangelical Greek scholar, is the author of a number of well-known biblical commentaries, including the volume on Revelation in the NICNT. Dr. David Hubbard, former president of Fuller Theological Seminary, refers to him as "one of our generation's most able expositors."
Before his retirement, Mounce was a professor of New Testament Bethel University in St. Paul, Minnesota, and later the academic dean for Western Kentucky University and then president (now president emeritus) of Whitworth College, Spokane, Washington. He was one of the translators for the following English translations of the Bible: NIV, NLT, NIrV, HCSB, and especially the ESV.
Endorsements
Fully conversant with contemporary literature on Romans and with the thought of the apostle, Dr. Mounce has given us his mature reflection on Paul's theological masterwork. It is a commentary that will both teach and edify even when, here or there, the reader may opt for a different interpretation. I intend to use it and gladly commend it to others.
John Calvin said in the introduction to his commentary on the Epistle to the Romans that the best thing an interpreter can do is to make the meaning of the text clear and to do it with as few words as possible. He called it "lucid brevity." Dr. Mounce has achieved this in his commentary. The reader is brought quickly to the meaning of the text in language that is easy, even delightful to read. Evidence of the scholarship that brought the author to the meaning may be found in the footnotes. These features along with Dr. Mounce's sensitivity to the spiritual implications of the text make this commentary especially valuable for the busy pastor and layperson.