Find this product on Logos.com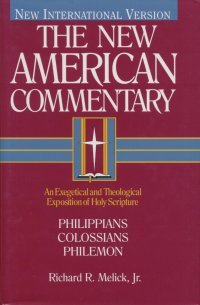 New American Commentary - Philippians, Colossians, and Philemon
Vol. 32
Highlights
A thorough, verse-by-verse analysis
Insightful and technical aimed at the serious Bible scholar
Great for the pastor or serious Bible student
Vast in scope, eventually to total 42 volumes
Over 40 scholars worked on the complete set
Product Details
The New American Commentary Series
In development for over a decade, The New American Commentary series is for those who have been seeking a commentary that honors the Scriptures, represents the finest in contemporary evangelical scholarship and lends itself to practical work of preaching and teaching. This comprehensive series serves as a minister's friend and a Bible student's guide.
The New American Commentary is based on the inerrancy of Scripture, focuses on the intrinsic theological and exegetical concerns of each Biblical book, and engages the range of issues raised in contemporary Biblical scholarship. Drawing on the skills and insight of over forty Bible scholars, the New American Commentary brings together scholarship and piety to produce a tool that enhances and supports the life of the church.
About the Author
R. Melick, Jr.is Director of the Academic Graduate Studies Program and Professor of New Testament Studies at Golden Gate Theological Seminary. He earned his Ph.D. from Southwestern Baptist Theological Seminary. Prior to serving at Golden Gate Seminary, Dr. Richard Melick was president of the Criswell Center for Biblical Studies in Dallas. Dr. Melick has served at six other educational institutions during his teaching ministry, both as a professor and lead administrator.
A former pastor of two churches and numerous interim pastorates, Dr. Melick is a recognized author. Dr. Melick authored Called To Be Holy and was a translator of the Holman Christian Standard bible. He served as co-editor and contributor to Authority and Interpretation: A Baptist Perspective, and is author of chapters included in Foundations for Biblical Interpretation: A Complete Library of Tools and Resources, Handbook of Contemporary Preaching, and Southern Baptists and American Evangelicals: The Conversation Continues. He has also authored numerous other journal and curriculum articles.
Endorsements
The New American Commentary promises to be workmanlike, clear, sufficiently detailed to provide help to the working preacher, but not so long and pedantic as to be tedious and unhelpful to all but a coterie of scholars. The strength of the NAC is that is generally focuses on what the text says. ... Pastors and Bible teachers will be grateful for this resource for years to come.
Richard Melick's commentary is characterized by lucidity and simplicity of expression. This and its avowed aim of bringing out the theological message of the biblical text will make it of especial value to pastors and Bible teachers and should help encourage that faithful exposition of Holy Scriptures which is necessary food Sunday by Sunday for the people of God.