Find this product on Logos.com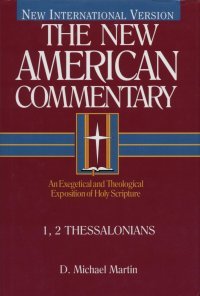 New American Commentary - 1 and 2 Thessalonians
Vol. 33
Highlights
A thorough, verse-by-verse analysis
Insightful and technical aimed at the serious Bible scholar
Great for the pastor or serious Bible student
Vast in scope, eventually to total 42 volumes
Over 40 scholars worked on the complete set
Product Details
The New American Commentary Series
In development for over a decade, The New American Commentary series is for those who have been seeking a commentary that honors the Scriptures, represents the finest in contemporary evangelical scholarship and lends itself to practical work of preaching and teaching. This comprehensive series serves as a minister's friend and a Bible student's guide.
The New American Commentary is based on the inerrancy of Scripture, focuses on the intrinsic theological and exegetical concerns of each Biblical book, and engages the range of issues raised in contemporary Biblical scholarship. Drawing on the skills and insight of over forty Bible scholars, the New American Commentary brings together scholarship and piety to produce a tool that enhances and supports the life of the church.
Highlights of This Volume
In these epistles Paul the missionary pastor utilized eschatological truth in the service of ethics and pastoral encouragement. This commentary is based on a careful exegesis of the Greek text. But Dr. Martin believes that meaning must always be related to the whole. Therefore he focuses on the way the clauses, sentences, and paragraphs relate to one another to produce Paul's message. The apostle was a master of the art of persuasion, and this commentary examines not only what he said but admires the way he said it.
About the Author
Dr. D. Michael Martin is Vice President, Academic Affairs and Professor of New Testament Studies at Golden Gate Baptist Theological Seminary. He earned his B.A. Dallas Baptist College; Ph.D. and M. Div. at Southwestern Baptist Theological Seminary.
Dr. Martin believes careful and diligent study of God's Word should shape believers' lives and guide the faith and ministry of the church. He taught New Testament studies at Golden Gate Baptist Theological Seminary from 1980 through 2003. He then went to SBTS as Dean of their school of religion. Martin rejoined Golden Gate in January 2006 as Vice President of Academic Affairs.
While teaching, Martin also wrote numerous curriculum pieces, several articles, and authored "1 & 2 Thessalonians" in the New American Commentary series. He has served numerous churches as interim pastor, Bible study leader, or special consultant. Michael is an active member of a local Southern Baptist church where he serves in a variety of capacities.
Endorsements
D. Michael Martin has written a helpful commentary on 1, 2 Thessalonians, succinct and fair in its overview and assessment of interpretative issues. This work will be especially helpful to those who desire to communicate the message of these letters but are limited in their use of the Greek text.