Find this product on Logos.com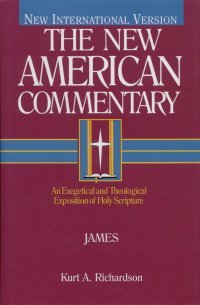 New American Commentary - James
Vol. 36
Highlights
A thorough, verse-by-verse analysis
Insightful and technical aimed at the serious Bible scholar
Great for the pastor or serious Bible student
Vast in scope, eventually to total 42 volumes
Over 40 scholars worked on the complete set
Product Details
The New American Commentary Series
In development for over a decade, The New American Commentary series is for those who have been seeking a commentary that honors the Scriptures, represents the finest in contemporary evangelical scholarship and lends itself to practical work of preaching and teaching. This comprehensive series serves as a minister's friend and a Bible student's guide.
The New American Commentary is based on the inerrancy of Scripture, focuses on the intrinsic theological and exegetical concerns of each Biblical book, and engages the range of issues raised in contemporary Biblical scholarship. Drawing on the skills and insight of over forty Bible scholars, the New American Commentary brings together scholarship and piety to produce a tool that enhances and supports the life of the church.
Highlights of This Volume
There is no more practical book in the New Testament than James. Its abundant imperatives (more than any other New Testament book) and its striking imagery arm it to prick the conscience of "double-minded" and presumptuous Christians as skillfully today as in the first century. No commentary drives home the significance of these instructions better than Dr. Richardson's. He has offered Bible students a thought-provoking and compelling examination of this wonderfully unsettling book.
About the Author
Kurt Anders Richardson, Thd. Basel, is a professor at McMaster University in Hamilton, Ontario. Dr. Richardson also conducts classes in Scriptural Comparisons in the Toronto School of Theology at the University of Toronto. Even while ministering to a United Church congregation near Niagara Falls, he is much in demand around the world as a Christian voice respected and trusted in the Muslim world, annually addressing scholarly symposia in Bosnia, Turkey and Iran.
Endorsements
Richardson writes with profundity of a theologian, the acuity of a biblical scholar, and the intensity of the impassioned saint. His read of the merciful faith that swallows up God's just judgment effects not only a crystallizing center for the whole of the epistle but also renders the confusing stream of topics into a coherent, theological dunamis. One will never read the Letter of James the same way again.