Find this product on Logos.com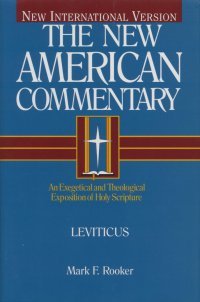 New American Commentary - Leviticus
Vol. 3a
Highlights
A thorough, verse-by-verse analysis
Insightful and technical aimed at the serious Bible scholar
Named by the R. C. Ryan Center for Biblical Studies as one of the Best Tools for Preaching and Teaching
Product Details
The New American Commentary Series
In development for over a decade, The New American Commentary series is for those who have been seeking a commentary that honors the Scriptures, represents the finest in contemporary evangelical scholarship and lends itself to practical work of preaching and teaching. This comprehensive series serves as a minister's friend and a Bible student's guide.
The New American Commentary is based on the inerrancy of Scripture, focuses on the intrinsic theological and exegetical concerns of each Biblical book, and engages the range of issues raised in contemporary Biblical scholarship. Drawing on the skills and insight of over forty Bible scholars, the New American Commentary brings together scholarship and piety to produce a tool that enhances and supports the life of the church.
Highlights of This Volume
Dr. Rooker's work journeys through the symbolisms and functions of the sacrificial system of ancient Israel. It guides the reader into the meaning and significance of Leviticus from a Christian perspective as well as that of the ancient context. It also confronts the critical issues of the book and argues for the Mosaic origin of the material.
About the Author
Mark F. Rooker (Ph.D. Brandeis University) is professor of Old Testament and Hebrew at Southeastern Baptist Theological Seminary. He is the author of a book on the language of the Book of Ezekiel and numerous articles on Old Testament interpretation and linguistic dating of Old Testament books. He is also a Bible translator and is serving as editor of the Pentateuch for the Holman Christian Standard Bible.
Endorsements
Contrary to popular opinion, Leviticus is a crucially important and relevant book to Christian theology and life. Mark Rooker has provided a clear and profound guide to this book. He opens up the ancient world of Leviticus to the modern church and shows how it anticipates Christ. I recommend it strongly.