Find this product on Logos.com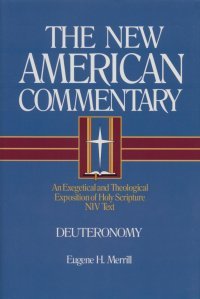 New American Commentary - Deuteronomy
Vol. 4
Highlights
A thorough, verse-by-verse analysis
Insightful and technical aimed at the serious Bible scholar
Great for the pastor or serious Bible student
Vast in scope, eventually to total 42 volumes
Over 40 scholars worked on the complete set
Product Details
The New American Commentary Series
In development for over a decade, The New American Commentary series is for those who have been seeking a commentary that honors the Scriptures, represents the finest in contemporary evangelical scholarship and lends itself to practical work of preaching and teaching. This comprehensive series serves as a minister's friend and a Bible student's guide.
The New American Commentary is based on the inerrancy of Scripture, focuses on the intrinsic theological and exegetical concerns of each Biblical book, and engages the range of issues raised in contemporary Biblical scholarship. Drawing on the skills and insight of over forty Bible scholars, the New American Commentary brings together scholarship and piety to produce a tool that enhances and supports the life of the church.
Highlights of This Volume
The addresses of Moses in the Book of Deuteronomy declare that the awesome God of creation had become the incomparable God and King of Israel. E. H. Merrill herein describes and explains this "defining moment" in Israel's history, when Moses prepared the new nation for victories and the blessings of a new life in the promised land. This commentary emphasizes the grace and faithfulness of the great God who embraced the people of Israel by covenant, but it also stresses God's call for his people to devote their hearts and lives in loving loyalty to him. Deuteronomy calls for God's people to model God's kingdom on earth and is thus foundational to the faith.
About the Author
Eugene H. Merrill received his Ph.D. from Columbia University. He is Distinguished Professor of Old Testament Studies at Dallas Theological Seminary. He has served as a Bible translator and an editor on several projects in biblical studies. He has written numerous journal articles and several books in the field of Old Testament and history. Most notable is his Kingdom of Priests: A History of Old Testament Israel. He has also written forthcoming commentaries on Haggai, Zechariah, Malachi, and 1, 2 Chronicles. Dr. Merrill has been heavily involved in international Christian ministry in Europe, Asia, and the Near East.
Endorsements
This is a worthy addition to The New American Commentary series, one which fits well within the parameters outlined for the series. Merrill exhibits a respect and love for the text upon which he is commenting, as well as a breadth and depth of knowledge of the field. He brings the best of evangelical and nonevangelical scholarship to bear on his topic. This will be a valuable addition to the libraries of pastors, teachers, and students.