Find this product on Logos.com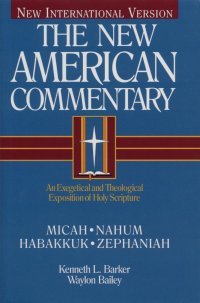 New American Commentary - Micah, Nahum, Habakkuk, Zephaniah
Vol. 20
Highlights
A thorough, verse-by-verse analysis
Insightful and technical aimed at the serious Bible scholar
Great for the pastor or serious Bible student
Vast in scope, eventually to total 42 volumes
Over 40 scholars worked on the complete set
Named by the R. C. Ryan Center for Biblical Studies as one of the Best Tools for Preaching and Teaching
Product Details
The New American Commentary Series
In development for over a decade, The New American Commentary series is for those who have been seeking a commentary that honors the Scriptures, represents the finest in contemporary evangelical scholarship and lends itself to practical work of preaching and teaching. This comprehensive series serves as a minister's friend and a Bible student's guide.
The New American Commentary is based on the inerrancy of Scripture, focuses on the intrinsic theological and exegetical concerns of each Biblical book, and engages the range of issues raised in contemporary Biblical scholarship. Drawing on the skills and insight of over forty Bible scholars, the New American Commentary brings together scholarship and piety to produce a tool that enhances and supports the life of the church.
Highlights of This Volume
In times of political, moral, and spiritual crisis, God sent his prophets to ancient Israel. Their words continue to speak to us in the midst of life's crises. These books in particular remind us that the Lord has the will and the power to eliminate evil from his world and to strengthen and gladden the hearts of all who will trust him. Dr. Barker and Dr. Bailey are able guides to the depths of divine truth to be found in these biblical books.
About the Authors
Dr. Kenneth L. Barker holds a ThM from Dallas Theological Seminary and a PhD from the Dropsie College for Hebrew and Cognate Learning. He has served as Academic Dean of Capital Bible Seminary, Professor of Old Testament at three theological seminaries, and Visiting Professor at two others. Until his retirement from International Bible Society in 1996, he was Executive Director of International Bible Society New International Version Translation Center. He also is general editor of The New International Version Study Bible and author of The Accuracy of the New International Version and commentary on the Book of Zechariah.
Dr. Barker has given talks all over the U.S. and abroad about the translation process of the New International Version bible, and much of his time is spent writing, editing, preaching and teaching. Since 1991 Dr. Barker has been a deacon and teacher at First Baptist Church, Carrollton, Texas.
.
Dr. Waylon Bailey is from Brantley, Alabama. He graduated from Samford University in Birmingham, Alabama with a Bachelor of Arts degree, and from New Orleans Baptist Theological Seminary with the Master of Theology and Doctor of Theology degrees. He has served as pastor of churches in Alabama and Louisiana and served as a Professor of Old Testament and Hebrew at New Orleans Baptist Seminary from 1978 to 1995. Waylon is the author of five books, including a book on Hebrew Grammar with Dr. J. O. Strange. He is a frequent contributor to biblical and pastoral journals. In 1989, Waylon became the pastor of First Baptist Church Covington, Covington, Louisiana. Since becoming pastor of First Baptist Church, the church has grown from 300 in worship attendance to 2000 each week in the three worship services.