Find this product on Logos.com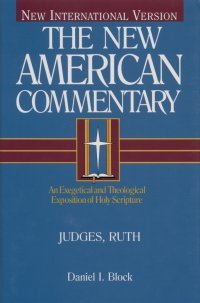 New American Commentary - Judges, Ruth
Vol. 6
Highlights
A thorough, verse-by-verse analysis
Insightful and technical aimed at the serious Bible scholar
Great for the pastor or serious Bible student
Vast in scope, eventually to total 42 volumes
Over 40 scholars worked on the complete set
ECPA Gold Medallion Finalist
Named by the R. C. Ryan Center for Biblical Studies as one of the Best Tools for Preaching and Teaching
Product Details
The New American Commentary Series
In development for over a decade, The New American Commentary series is for those who have been seeking a commentary that honors the Scriptures, represents the finest in contemporary evangelical scholarship and lends itself to practical work of preaching and teaching. This comprehensive series serves as a minister's friend and a Bible student's guide.
The New American Commentary is based on the inerrancy of Scripture, focuses on the intrinsic theological and exegetical concerns of each Biblical book, and engages the range of issues raised in contemporary Biblical scholarship. Drawing on the skills and insight of over forty Bible scholars, the New American Commentary brings together scholarship and piety to produce a tool that enhances and supports the life of the church.
About the Author
Daniel I. Block, D. Phil. from the University of Liverpool, England, is currently on the faculty at Wheaton College as Gunther H. Knoedler Professor of Old Testament. He is published widely in both scholarly and popular journals on subjects related to the Old Testament. He served as senior translator with primary responsibility for the Pentateuch for the New Living Translation bible. His most significant published work to date is his two-volume commentary, The Book of Ezekiel.
Endorsements
Dr. Block is aware of the most important literary analyses of these books, and it is particularly in this area that he contributes a substantial theological analysis. Christian pastors and teachers will rejoice to have Block's analysis as an indispensable guide to their interpretation and application of this difficult but pivotal portion of the Scriptures.
With a sure hand but a light touch, this superb commentary moves confidently through critical and historical background to focus on the text itself. Informed and sensitive insights abound, as Dan Block crisply but comprehensively constructs what is needed to bring the biblical author's own work to life. In a field where both reader and text are often forgotten, this is commentary writing at its best.