Find this product on Logos.com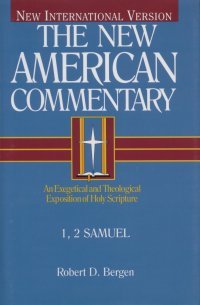 New American Commentary - 1 and 2 Samuel
Vol. 7
Highlights
A thorough, verse-by-verse analysis
Insightful and technical aimed at the serious Bible scholar
Great for the pastor or serious Bible student
Vast in scope, eventually to total 42 volumes
Over 40 scholars worked on the complete set
Named by the R. C. Ryan Center for Biblical Studies as one of the Best Tools for Preaching and Teaching
Product Details
The New American Commentary Series
In development for over a decade, The New American Commentary series is for those who have been seeking a commentary that honors the Scriptures, represents the finest in contemporary evangelical scholarship and lends itself to practical work of preaching and teaching. This comprehensive series serves as a minister's friend and a Bible student's guide.
The New American Commentary is based on the inerrancy of Scripture, focuses on the intrinsic theological and exegetical concerns of each Biblical book, and engages the range of issues raised in contemporary Biblical scholarship. Drawing on the skills and insight of over forty Bible scholars, the New American Commentary brings together scholarship and piety to produce a tool that enhances and supports the life of the church.
Highlights of This Volume
The New Testament begins by declaring Jesus Christ to be "the son of David," whose story is found in 1, 2 Samuel. In the Biblical story of redemption these books serve as key stepping stones to the climactic high ground of the Gospels. Their theological center is the Davidic Covenant, whose redemptive significance cannot be overemphasized. But Dr. Bergen also presents a fresh theological perspective on 1, 2 Samuel as supporting the teachings of the Torah. He presents these books as history, theology, and classic literature at the same time. The student who follows this skillful exegetical guide will discover many new and exciting truths from God's Word.
About the Author
Robert D.Bergen is Professor of Old Testament and Biblical Languages; Associate Dean of Academic Affairs, Hannibal-LaGrange College, Hannibal, Missouri. Dr. Bergen earned his BA, Hardin-Simmons University; MDiv, PhD, Southwestern Baptist Theological Seminary. Dr. Bergen is involved in groundbreaking work in linguistic studies and computer programs for Old Testament study. He has written several articles in those fields and edited the book Biblical Hebrew and Discourse Linguistics.
Endorsements
This is one of the finest commentaries available today on 1, 2 Samuel. Dr. Bergen's exegesis is keen and well-informed. His treatment of the various events and personalities in Samuel is balanced and level-headed yet full of fresh, new insights. The commentary provides an appreciated new resource for the study of these two intriguing and theologically rich books.