Find this product on Logos.com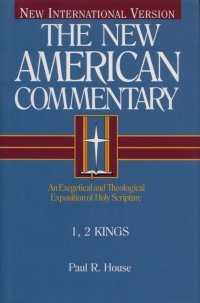 New American Commentary - 1 and 2 Kings
Vol. 8
Highlights
A thorough, verse-by-verse analysis
Insightful and technical aimed at the serious Bible scholar
Great for the pastor or serious Bible student
Vast in scope, eventually to total 42 volumes
Over 40 scholars worked on the complete set
Named by the R. C. Ryan Center for Biblical Studies as one of the Best Tools for Preaching and Teaching
Product Details
The New American Commentary Series
In development for over a decade, The New American Commentary series is for those who have been seeking a commentary that honors the Scriptures, represents the finest in contemporary evangelical scholarship and lends itself to practical work of preaching and teaching. This comprehensive series serves as a minister's friend and a Bible student's guide.
The New American Commentary is based on the inerrancy of Scripture, focuses on the intrinsic theological and exegetical concerns of each Biblical book, and engages the range of issues raised in contemporary Biblical scholarship. Drawing on the skills and insight of over forty Bible scholars, the New American Commentary brings together scholarship and piety to produce a tool that enhances and supports the life of the church.
About the Author
Paul R. House received his B.A. at Southwest Baptist University, a M.A. at University of Missouri-Columbia, and both M.Div. & Ph.D. from The Southern Baptist Theological Seminary. Paul House has been associate dean and professor of divinity at Beeson Divinity School since 2004, overseeing all aspects of academic programming and teaching Old Testament. He previously served at Taylor University, The Southern Baptist Theological Seminary, Trinity Episcopal School for Ministry and Wheaton College.
House is the author or editor of 15 books including: Zephaniah: A Prophetic Drama, The Unity of the Twelve, and Old Testament Survey. He is the editor of and contributor to Beyond Form Criticism. He also has written numerous articles for journals and periodicals. He has been the pastor of churches in Missouri, Indiana and Kentucky.
Endorsements
Paul House's commentary on 1, 2 Kings is well organized and clearly written. Aware of the recent advances in the literary study of Scripture, his focus on theology and application will greatly benefit pastors and students alike. This substantial commentary may be the best thing out to date to assist biblical expositors in mining the riches of these intriguing books.
This commentary represents a significant contribution to the study of 1, 2 Kings. House offers the reader a fresh and remarkably insightful exegesis of these often neglected books. His work is lucid and balanced, and his grasp of human nature is astute.