Find this product on Logos.com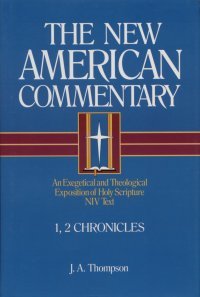 New American Commentary - 1 and 2 Chronicles
Vol. 9
Highlights
A thorough, verse-by-verse analysis
Insightful and technical aimed at the serious Bible scholar
Great for the pastor or serious Bible student
Vast in scope, eventually to total 42 volumes
Over 40 scholars worked on the complete set
Named by the R. C. Ryan Center for Biblical Studies as one of the Best Tools for Preaching and Teaching
Product Details
The New American Commentary Series
In development for over a decade, The New American Commentary series is for those who have been seeking a commentary that honors the Scriptures, represents the finest in contemporary evangelical scholarship and lends itself to practical work of preaching and teaching. This comprehensive series serves as a minister's friend and a Bible student's guide.
The New American Commentary is based on the inerrancy of Scripture, focuses on the intrinsic theological and exegetical concerns of each Biblical book, and engages the range of issues raised in contemporary Biblical scholarship. Drawing on the skills and insight of over forty Bible scholars, the New American Commentary brings together scholarship and piety to produce a tool that enhances and supports the life of the church.
Highlights of This Volume
J. A. Thompson offers his readers a clear and readable commentary on 2 often neglected Old Testament historical books. He wrestles with issues of genre, historiography, and context while lucidly expounding the significant theological themes of these books. The preacher or student will be well served by Thompson's clear writing and good exegetical sense. He introduces and outlines the book, comments on the text, and then points his readers toward his homiletically helpful summaries and applications.
About the Author
J. A. Thompson (Ph.D., Cambridge) is a retired scholar living in Melbourne, Australia, where he has taught Old Testament in addition to serving several churches. Thompson has authored a score of scholarly articles and has written commentaries on Jeremiah and Deuteronomy. Also he is the author of Handbook of Life in Bible Times and The Bible and Archaeology.
Endorsements
The New American Commentary is nothing short of excellent. The scholarship is superb and up-to-date. The format is fresh and is totally given to a revealing of the meaning of the text. No stone seems to be left unturned. Both exegetically and homiletically, pastors will find a veritable gold mine of information. I believe this series will set the standard for years to come.