Find this product on Logos.com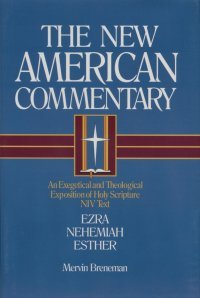 New American Commentary - Ezra, Nehemiah, Esther
Vol. 10
Highlights
A thorough, verse-by-verse analysis
Insightful and technical aimed at the serious Bible scholar
Great for the pastor or serious Bible student
Vast in scope, eventually to total 42 volumes
Over 40 scholars worked on the complete set
Named by the R. C. Ryan Center for Biblical Studies as one of the Best Tools for Preaching and Teaching
Product Details
The New American Commentary Series
In development for over a decade, The New American Commentary series is for those who have been seeking a commentary that honors the Scriptures, represents the finest in contemporary evangelical scholarship and lends itself to practical work of preaching and teaching. This comprehensive series serves as a minister's friend and a Bible student's guide.
The New American Commentary is based on the inerrancy of Scripture, focuses on the intrinsic theological and exegetical concerns of each Biblical book, and engages the range of issues raised in contemporary Biblical scholarship. Drawing on the skills and insight of over forty Bible scholars, the New American Commentary brings together scholarship and piety to produce a tool that enhances and supports the life of the church.
Highlights of This Volume
These are some of the most practical, inspiring, and enjoyable books in the Bible. They are full of demonstrations of the Lord's faithful involvement in the lives of His people. Missionary-scholar Dr. Mervin Breneman faithfully guides the reader in exploring their riches.
About the Author
Mervin Breneman, Ph.D., Brandeis, is professor of Old Testament at ESEPA Seminary in San Sebastián, Costa Rica. He is the author of a variety of articles and has served as assistant editor of Diccionario de la Biblia..
Endorsements
The New American Commentary will prove to be most useful to pastor, study leaders, and serious Bible students. I appreciate the format, outlines, introductions, careful and scholarly exegesis, and application. All of these will prove most helpful.