Find this product on Logos.com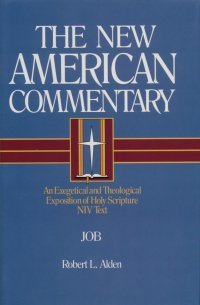 New American Commentary - Job
Vol. 11
Highlights
A thorough, verse-by-verse analysis
Insightful and technical aimed at the serious Bible scholar
Great for the pastor or serious Bible student
Vast in scope, eventually to total 42 volumes
Over 40 scholars worked on the complete set
Product Details
The New American Commentary Series
In development for over a decade, The New American Commentary series is for those who have been seeking a commentary that honors the Scriptures, represents the finest in contemporary evangelical scholarship and lends itself to practical work of preaching and teaching. This comprehensive series serves as a minister's friend and a Bible student's guide.
The New American Commentary is based on the inerrancy of Scripture, focuses on the intrinsic theological and exegetical concerns of each Biblical book, and engages the range of issues raised in contemporary Biblical scholarship. Drawing on the skills and insight of over forty Bible scholars, the New American Commentary brings together scholarship and piety to produce a tool that enhances and supports the life of the church.
Highlights of This Volume
Is suffering incompatible with serving God? In the Book of Job the problem of human pain confronts the person of God. The book leads to the conclusion that God's goodness and greatness deserves and demands our love and worship. Robert Alden's commentary serves as a skillful and sensitive guide through this highly relevant handbook for suffering servants of God.
About the Author
Robert L. Alden is a contributor to numerous scholarly journals and reference works. Dr. Alden has written commentaries on Psalms, Proverbs, and Song of Solomon. He was also one of the editors on the New International Version bible.
Endorsements
Teaching and preaching Job has never been an easy task, but Bob Alden's Job will excite many who previously were reticent to undertake the task. Alden is especially effective in the numerous word studies that fill this new high water mark for evangelical scholarship in the Book of Job.
This commentary makes an outstanding contribution to the literature on this continuously fascinating and puzzling book. I highly recommend it for anyone interested in exploring the wealth of material in this book about a man who suffered intensely.