Find this product on Logos.com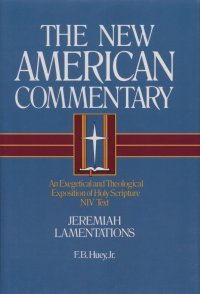 New American Commentary - Jeremiah, Lamentations
Vol. 16
Highlights
A thorough, verse-by-verse analysis
Insightful and technical aimed at the serious Bible scholar
Great for the pastor or serious Bible student
Vast in scope, eventually to total 42 volumes
Over 40 scholars worked on the complete set
Product Details
The New American Commentary Series
In development for over a decade, The New American Commentary series is for those who have been seeking a commentary that honors the Scriptures, represents the finest in contemporary evangelical scholarship and lends itself to practical work of preaching and teaching. This comprehensive series serves as a minister's friend and a Bible student's guide.
The New American Commentary is based on the inerrancy of Scripture, focuses on the intrinsic theological and exegetical concerns of each Biblical book, and engages the range of issues raised in contemporary Biblical scholarship. Drawing on the skills and insight of over forty Bible scholars, the New American Commentary brings together scholarship and piety to produce a tool that enhances and supports the life of the church.
Highlights of This Volume
More than any other prophet, Jeremiah models the servant of God whose heart is in tune with God's heart. His life and ministry also uniquely foreshadowed that of the Lord Jesus Christ. In this commentary on Jeremiah-Lamentations, Dr. Huey writes with the mind of a scholar who has spent many years studying and teaching these books. But he also writes with the heart of a pastor committed to nurturing the church with the biblical message of a holy but compassionate God determined to transform vessels broken and defiled by sin into obedient servants restored and purified by his power and grace.
About the Author
F. B. Huey, Jr., is Distinguished Professor of Old Testament at Southwestern Baptist Theological Seminary. He is an experienced writer who has authored several commentaries and other books including A Student Dictionary for Biblical and Theological Studies and "Ruth," "Esther" in Expositor's Bible Commentary. He also is a contributor to The Disciple's Study Bible, Wycliffe Bible Encyclopedia, and Zondervan Pictorial Encyclopedia and served as a translator for the New American Standard Bible and the New International Version.
Endorsements
In Jeremiah-Lamentations Dr. Huey writes with an irenic spirit, lucid style, and warm personal touch that make for informative and enjoyable reading. The result is a consistently fine combining of the fruits of careful research with the mature spiritual observations and counsel of a well-respected scholar.