Find this product on Logos.com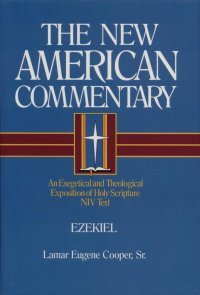 New American Commentary - Ezekiel
Vol. 17
Highlights
A thorough, verse-by-verse analysis
Insightful and technical aimed at the serious Bible scholar
Great for the pastor or serious Bible student
Vast in scope, eventually to total 42 volumes
Over 40 scholars worked on the complete set
Product Details
The New American Commentary Series
In development for over a decade, The New American Commentary series is for those who have been seeking a commentary that honors the Scriptures, represents the finest in contemporary evangelical scholarship and lends itself to practical work of preaching and teaching. This comprehensive series serves as a minister's friend and a Bible student's guide.
The New American Commentary is based on the inerrancy of Scripture, focuses on the intrinsic theological and exegetical concerns of each Biblical book, and engages the range of issues raised in contemporary Biblical scholarship. Drawing on the skills and insight of over forty Bible scholars, the New American Commentary brings together scholarship and piety to produce a tool that enhances and supports the life of the church.
Highlights of This Volume
The Book of Ezekiel views human life in light of the glory of God. His glory dispels darkness and delights to dwell with those whose hope is in God rather than in the false glory of human achievement. Dr. Cooper has provided teachers and students of Scripture with a clear and thrilling look at this book that inspires worship of our awesome God.
About the Author
Lamar Eugene Cooper, Sr. is Interim President, Executive Vice President and Provost at Criswell College in Dallas. He received his Doctor of Divinity, at Criswell College in 2004 and Doctor of Theology, New Orleans Baptist Theological Seminary In 1975. He has written several articles and is a contributor to the Believer's Study Bible..
Endorsements
Dr. Cooper has presented a well-balanced commentary on the Book of Ezekiel. He is up-to-date on the contemporary studies on the Book of Ezekiel and interacts with the literature in a pleasantly readable and lucid style. Dr. Cooper skillfully compares themes and concepts found in Ezekiel with corresponding features in other parts of the canon of Scripture and is especially helpful in correlating the teaching of the prophet with NT themes and their fulfillment. This commentary deserves wide distribution and is a most significant contribution to the understanding of the prophet who ministered in Israel's darkest hour.