Find this product on Logos.com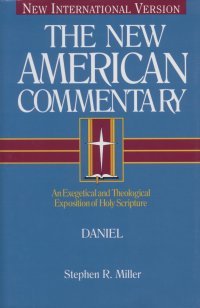 New American Commentary - Daniel
Vol. 18
Highlights
A thorough, verse-by-verse analysis
Insightful and technical aimed at the serious Bible scholar
Great for the pastor or serious Bible student
Vast in scope, eventually to total 42 volumes
Over 40 scholars worked on the complete set
Product Details
The New American Commentary Series
In development for over a decade, The New American Commentary series is for those who have been seeking a commentary that honors the Scriptures, represents the finest in contemporary evangelical scholarship and lends itself to practical work of preaching and teaching. This comprehensive series serves as a minister's friend and a Bible student's guide.
The New American Commentary is based on the inerrancy of Scripture, focuses on the intrinsic theological and exegetical concerns of each Biblical book, and engages the range of issues raised in contemporary Biblical scholarship. Drawing on the skills and insight of over forty Bible scholars, the New American Commentary brings together scholarship and piety to produce a tool that enhances and supports the life of the church.
Highlights of This Volume
The Book of Daniel focuses on the sovereign hand of God in human history. The Lord's power exceeds that of the world's greatest empires, and his loving care for his people is unmatched on earth. Stephen R. Miller's commentary on Daniel is based on a thorough but reverent analysis of the Hebrew and Aramaic text. It has scholarly depth but is also rich with practical application and homiletical insights.
About the Author
Stephen R. Miller is Dean of the Doctor of Philosophy Program Chairman and Professor of the Department of Old Testament and Hebrew at Mid-America Baptist Theological Seminary, Memphis, Tennessee. He has contributed numerous articles to Bible dictionaries, journals, and other periodicals. He is the author of Daniel in the Shepherd's Notes series and is a translator for the Holman Christian Standard Bible.
Endorsements
I believe The New American Commentary is nothing short of excellent. The scholarship is superb and up-to-date. The format is fresh and is totally given to a revealing of the meaning of the text. No stone seems to be left unturned. Both exegetically and homiletically, pastors will find a veritable gold mine of information. I believe this series will set the standard for years to come.